Why are we there?
Armed Conflict
Access to health care
Afghanistan: Latest MSF Updates
At least 42 people, including 14 MSF staff and 24 patients (three of which were children), were killed in sustained airstrikes on the MSF hospital in Kunduz, Afghanistan, on Saturday, October 3. Dozens more were injured.
We demand a full transparent and independent international investigation by the International Humanitarian Fact-Finding Commission (IHFFC.org) into the attacks.
2014 Operational Highlights
This is an excerpt from MSF's 2014 International Activity Report, published annually looking back on our work in the previous year. Please note that this report was written before the attack on our hospital in Kunduz.
After more than a decade of international aid and investment, access to basic and emergency medical care in Afghanistan remains severely limited and ill-adapted to meet the growing needs created by the ongoing conflict.
In February 2014, MSF published a report entitled Between Rhetoric and Reality: The Ongoing Struggle to Access Healthcare in Afghanistan, which revealed the serious and often deadly risks that people are forced to take to access medical care. It found that the majority of the 800 patients interviewed could not reach critical medical assistance due to insecurity, distance, and cost. Of those who reached MSF hospitals, 40 percent told us they had faced fighting, landmines, checkpoints, or harassment on their journey. Their testimonies exposed a wide gap between what exists on paper in terms of health care and what is actually available.

Dasht-e-Barchi Hospital, Kabul
At the end of November, MSF opened a maternity department in the district hospital of Dasht-e-Barchi, western Kabul.
Over the past decade, Kabul has become one of the world's fastest-growing cities but services have not kept pace with the rapid increase in population. The area of Dasht-e-Barchi has over one million inhabitants but only one public hospital and three public health centers. In a bid to reduce maternal and neonatal mortality, MSF opened a new obstetric department within the hospital, providing free, around-the-clock care for women presenting with complications in pregnancy or labor, and for seriously ill newborns. Just over a month after opening, the department was already functioning at maximum capacity, and there had been 627 deliveries by the end of December, including 33 Caesarean sections.
The 46-bed facility includes a delivery room, an intensive care unit for women and newborns, an inpatient department, and an operating theater. Vaccinations, laboratory services, and a blood bank are also available. There is even a 'kangaroo room', where mothers carry their newborns on their chest, skin to skin, so that their warmth acts as a natural incubator, regulating the baby's temperature.
Ahmad Shah Baba Hospital, Kabul
In eastern Kabul, MSF continued to upgrade Ahmad Shah Baba Hospital, by increasing bed capacity and training staff. Providing free and high-quality medical care, with a particular focus on emergency and maternity services, the hospital is now the most important maternal health facility in Bagrami and surrounding districts, with operating theaters and surgeons available at all times. This year, the team assisted 14,968 deliveries, performed 949 surgical procedures, and carried out 10,094 antenatal consultations.
Trauma Center, Kunduz
In the northern province of Kunduz, the MSF trauma center provides free surgical care to those with conflict-related injuries, as well as to victims of general trauma such as traffic accidents, and people with moderate and severe head injuries. Construction and refurbishment work continued in 2014: the intensive care unit was expanded and the total bed capacity in the hospital was increased to 70.
The number of patients visiting the center rose in 2014. Staff treated a total of 22,193 people and performed 5,962 surgical procedures. About 54 percent of the patients admitted for more prolonged treatment had conflict related injuries—from explosions, gunshots, or rocket attacks. As it is the only trauma center in the northern region, patients come from surrounding provinces such as Baghlan, Takhar, and Badakhshan. During intense periods of fighting, people traveling to the trauma center are at risk of being caught in crossfire and they are also delayed at checkpoints. For some patients, arriving within an hour of the incident can save their limbs or even their lives.
MSF's study published in February showed that in Kunduz more than one in five people had waited over 12 hours before going to the hospital, either because they could not travel at night for security reasons, or because there was fighting or they simply could not find transport.
Khost Maternity Hospital
The hospital in Khost is the only specialized maternity hospital in the area, and it aims to provide a safe environment for women to give birth. It focuses on assisting with complicated deliveries and reducing the high number of maternal deaths in the province. Many patients travel long distances to access the free, high-quality care on offer. Staff assisted in the delivery of 15,204 babies; approximately one in three children born in Khost province was delivered in the MSF hospital this year.
Video | Afghanistan: Addressing Huge Medical Needs in the Outskirts of Kabul
Emergency Assistance in Gulan Refugee Camp
At the beginning of the summer, tens of thousands of people fleeing a military offensive in the Pakistani region of North Waziristan crossed the border into Afghanistan, seeking refuge in Khost, Paktia, and Paktika provinces. From July to September, MSF teams provided assistance with medical care and water and sanitation in Gulan refugee camp, 11 miles from Khost city. In view of the low vaccination coverage in North Waziristan, teams focused on measles vaccinations for children aged six months to 15 years—more than 2,900 were vaccinated. A clinic was also set up in the camp, where a medical team treated on average 100 patients per day. Once the basic services were up and running, MSF handed over the medical and sanitation activities to other humanitarian organizations who could provide longer-term support to the refugees.
Boost Hospital, Lashkargah, Helmand Province
An MSF team continued to support Boost Hospital with surgery, internal medicine, emergency services, and maternal, pediatric, and intensive care. The 285-bed facility admitted around 2,480 patients and performed 300 surgical procedures each month. The maternity wards capacity was expanded from 40 to 60 beds and 9,207 babies were delivered in 2014. Helmand is one of the provinces most severely affected by the ongoing conflict. People have to deal with landmines, bombs, and outbreaks of fighting on an almost daily basis. MSF's February report revealed that as a result of insecurity, some patients had waited more than a week before seeking medical help. These delays are particularly dangerous for children, many of whom are very sick by the time they arrive at the hospital. Malnutrition remains one of the main causes of child mortality in Helmand province and the hospital's therapeutic feeding center treated 2,200 severely malnourished children this year.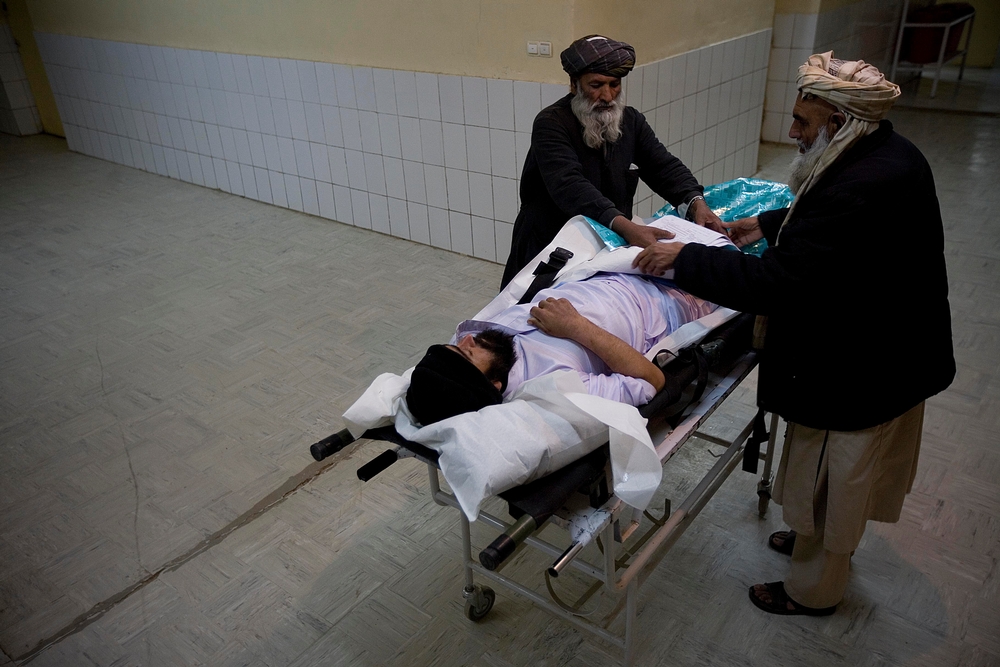 At the end of 2014, MSF had 1,738 staff in Afghanistan. MSF first began working in the country in 1980.
In 2014, MSF staff in Afghanistan had assisted with 39,600 births
Patient Story
Fatima, 30 years old, Dasht-e-Barchi
"I feel very tired but so happy. It's my first baby. I have been pregnant four times before but never had a baby. I lost each of them, after three months, four months, and five months. The last one after six months . . . When I got pregnant again, I went to a small private clinic for antenatal care. I never did before because we don't have money to spend for that. But this time, we really thought it was important and I went three times . . . My husband had to work a lot to pay for the medical care. Our neighbors told us to come [to the MSF clinic] once the baby came. They said I would be taken care of."
This page was last updated December 14, 2015. 
Related News & Publications