Doctors Without Borders/Médecins Sans Frontières (MSF) has worked in the Central African Republic (CAR) since 1996, and now has 2,400 Central African staff working alongside 230 international staff. In addition to its activities in Bangui, the organization runs activities in 17 locations across the country focusing on malaria, vaccinations, and maternal and child health. In addition, MSF also provides assistance to CAR refugees in neighboring countries Chad, Cameroon, and Democratic Republic of Congo.
Why are we there?
Armed conflict
Access to health care
Epidemic
CAR faces a chronic and prolonged health emergency. The political crisis that sparked the violent conflict in 2013 has still not been resolved and has exacerbated a preexisting humanitarian and health emergency. MSF and other NGOs provide the majority of the health services, but their work is repeatedly obstructed by armed groups and organized crime.
Over 70 percent of health facilities have been damaged or destroyed, and there is a shortage of trained health care workers. Many people are afraid to travel to the few health centers that remain, or cannot afford to pay for treatment. In addition, the supply of medical material remains very difficult to maintain.
Central African Republic: Latest MSF Updates
Our Work
There were hopes for peace in CAR following reconciliation talks in May, but sporadic violence persisted throughout the country and escalated in September in Bangui. This increased the need for urgent humanitarian assistance. 
This year, mobile clinics, support activities, and vaccination campaigns had to cease operating several times in the areas of Kabo, Bambari, and Boguila, and MSF and other NGO facilities were robbed, attacked, and looted. In this atmosphere of insecurity, it was difficult to maintain the supply of medical materials. In Batangafo—one of the most insecure areas in CAR—MSF continued to provide basic and specialist health care at the referral facility and five health posts. Activities included outpatient consultations, surgical interventions, and maternal and child health. 
Despite such incidents, MSF continued to run a substantial program of basic and emergency health care for communities with urgent needs across 13 prefectures and 15 localities, in both MSF hospitals and public health facilities. Teams carried out vaccination campaigns, operated mobile clinics, and provided emergency surgery, maternity services, specialized care for victims of sexual violence, and treatment for malnutrition, HIV, and tuberculosis (TB).
Uncertain Tomorrow: Webcast and Photo Exhibit
Operational Highlights
Caring for the Displaced
Armed groups have remained active and, by January 2016, an estimated 452,000 people were internally displaced, with tens of thousands living in overcrowded, improvised shelters such as schools and churches without adequate food, water, sanitation, or health care. In addition, 451,000 Central African refugees fled to neighboring countries such as Cameroon, Chad, and the Democratic Republic of Congo (DRC). This equates to a total of 20 percent of the Central African population that are displaced internally or living as refugees in neighboring countries.
In March, a fire destroyed more than 500 shelters in Batangafo internally displaced person (IDP) camp, and left 560 families without anything at all. MSF teams delivered non-food items and shelters to them.
Read: No Hope of Returning Home
Amina is from Bouca in the north of the country. Early one morning, armed groups surrounded her neighborhood, forced all Muslims inside a house, and set the house on fire. Amina was in a neighbor's house watching the scene from the window. She was saved thanks to a Christian person who protected her, enabling her and some other mothers to escape. Amina found her four daughters and fled. One of her daughters fled to Bangui and the others fled to Chad.
That was three years ago. Amina often calls her daughters who now live in a refugee camp in Chad. Hachta (40), Apsita (35), and Kadidja (28) are healthy, but have not been able to find work. Mariam (30), her fourth daughter, died due to an illness at shortly after she arrived at the camp. Amina would like to join her daughters but due to lack of money, she cannot. Today Amina survives thanks to the solidarity of the displaced families in the mosque, and the distribution of food in the camp.
Responding to Children's Needs
Malaria remains the biggest killer in the country and the leading cause of death in children under five. Three rounds of preventive malaria treatment were administered in Ndélé, Kabo, and Batangafo between July and November, reaching around 14,000 children.
High malnutrition rates and low vaccination coverage are also compromising children's health and shortening their lives. Only 13 percent of infants under one have received the full immunization package. In July, MSF launched a year-long campaign across 13 prefectures, targeting 220,000 children under five for comprehensive vaccination against diphtheria, tetanus, whooping cough, polio, Haemophilus influenzae type B, hepatitis B, pneumococcus, yellow fever, and measles. By March 2016, teams had vaccinated over 73,000 children. 
Providing Health Care in Bangui
General Hospital, Emergency Surgery
The MSF project at the General Hospital opened in February 2014. The 107 bed project is an emergency surgery and trauma center for adults. Patients who are operated at the General Hospital also attend rehabilitation sessions while hospitalized, and after they are discharged if needed. 
In 2015, the MSF team at the General Hospital admitted 10,032 patients and performed 4,092 surgical procedures. Post-operative follow-up of patients is also provided in order to monitor and change dressings—15,952 dressings have been applied since the start of 2015.
Read: A Moment of Grace Amid Pervasive Chaos, A letter from surgeon David Rothstein in CAR. Rothstein, a pediatric surgeon in Buffalo, New York, began working with Doctors Without Borders/Médedins Sans Frontières (MSF) in 2007. Here, he shares a reflection on his most recent assignment at the General Hospital in Bangui, in March 2015.
Assistance for Victims of Sexual Violence
MSF began providing care for victims of sexual violence in July 2014. Services include medical care (triple therapy, hepatitis B vaccination if needed, and consultation with a midwife), as well as psychological support. Since January 2015, 696 victims of sexual violence have been treated at the center.
Sylvie is a Central African midwife, she cares for victims of sexual violence in a specialized clinic established by MSF in Bangui General Hospital, "Here, in the context of armed conflict, rape is less an issue of sexual impulse than it is a weapon of war," says Sylvie. "The assaults happens in full view of the community, the family, and the children, in between the murders and the houses set alight." Read more about Sylvie's experience and the experience of MSF sexual violence counselors around the world.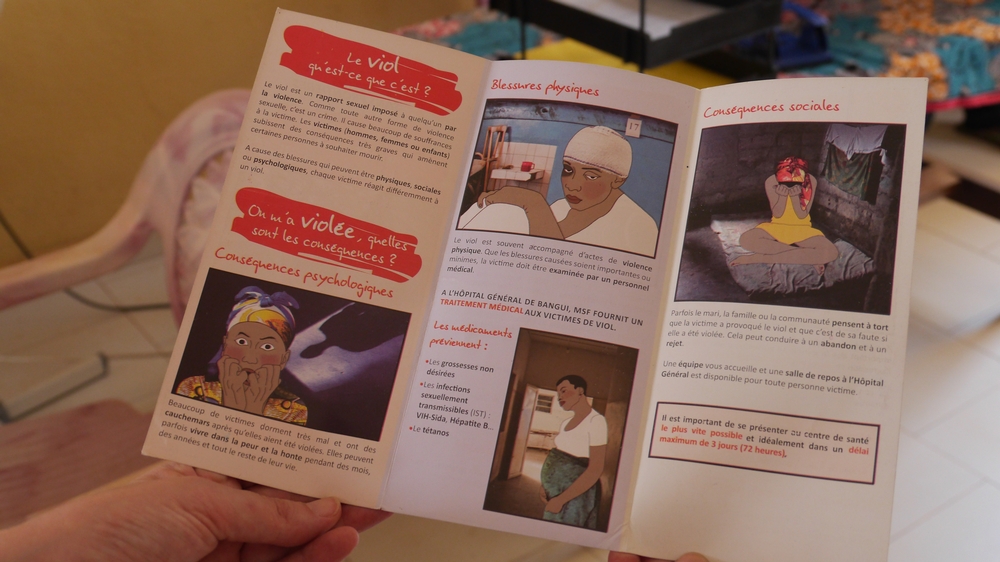 The PK5 Muslim district
The Mamadou Mbaïki health center in the predominantly Muslim PK5 enclave has created access to free health care for children under 15 years of age. MSF also operates an ambulance for emergency patient referrals. In 2015, MSF conducted 37,000 consultations.
A mobile clinic travels to the Grand Mosque of Bangui once per week to provide access to health care for isolated populations. Since the start of 2015, the mobile clinic and Mamadou Mbaïki health center provided 30,700 medical consultations. In November, MSF set up a new mobile clinic once per week at the site of Saint-Jacques church in Bangui. Since opening, it has provided 535 consultations.
Providing Health Care at M'poko Airport 
In 2015, MSF teams at M'poko Hospital provided 126,993 outpatient consultations, including 41,622 for malaria. MSF also runs a 24-bed stabilization unit, which has admitted 3,922 patients. Teams assisted in 1,497 deliveries.
Resulting from increased violence in September, 2015, there has been a steady influx of displaced persons into the camp at M'Poko airport, and other sites around Bangui. After reducing activities at M'Poko Hospital in early 2015, MSF has decided to return to its previous operative level, setting up mobile clinics at sites with high concentrations of displaced persons. To date, the mobile clinics have provided 9,828 consultations, and 13,047 children aged between six months and 10 years were vaccinated against measles.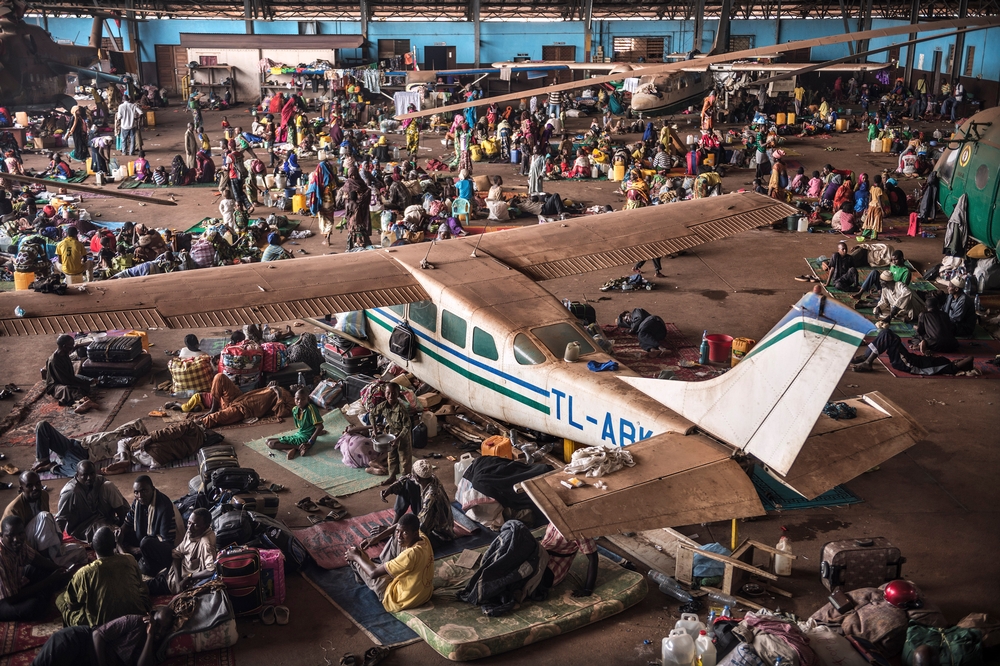 According to official figures, at the end of October 2015, there were over 20,000 people still living in the camp. MSF will maintain a presence at the camp for as long as there is a need, and will continue to monitoring the situation, responding accordingly. 
Maternal Health Care 
The Castor maternity project (80 beds, included 30 neonatal beds) was opened in June 2014. Since then, the MSF team has been providing free, high-quality health care, focusing on deliveries, obstetric complications, and neonatal care. In addition, a team of doctors and psychosocial health care workers provided care to 275 victims of sexual violence.
Since January 2015, activities have increased significantly. In 2015, there were 7,424 deliveries, of which 10 percent involved Caesarean section. In March 2015, MSF work began to prevent mother-to-children transmission of HIV/AIDS (PMTCT). In order to better organize the services and meet continually growing numbers of admissions, a neighboring house was rented to accommodate mothers following delivery.
In January 2016, Gbaya Dombia maternity center—the only maternity center in the PK5 district—was opened, providing free, high-quality maternal health care. Castor and Gbaya Dombia are the only health facilities in Bangui to provide free around the clock maternity care. 
Mambere Kadei Prefecture 
Carnot
MSF began activities in Carnot in 2009 with a response focused on nutrition. Currently, MSF is supporting the 96-bed Carnot hospital through the pediatric department, nutrition, and neonatology, and internal medicine for treatment of patients with HIV/AIDS and TB. In 2015, a total of 4,596 people were hospitalized. The nutrition program treated 1,246 children—709 of whom required hospitalization—and the adult internal medicine department admitted 675 patients. MSF also provided antiretroviral treatment to 1,330 patients, and 312 new cases of TB were diagnosed by the end of October.
MSF supports also three health centers in the area—Charpente, Mboula, and M'Belou. Since the beginning of the year, teams have provided over 45,000 consultations. Charpente serves as the out patient department for the Carnot Hospital. As most consultations are related to malaria, health workers are testing and treating malaria within communities, referring severe cases to the hospital. Since the beginning of the year, they have provided testing and treatment to over 42,000 children.
Read: Calm Returns to Carnot, But Many Remain Displaced
Mobile Clinic in the Muslim Enclave
MSF continues to provide health care and support for over 500 Muslims living in the Catholic Church of Carnot, which has been a place of refuge since February 2014. While some movement is possible, this population is still not able to move freely and return to their homes. Once per week, the MSF mobile clinic provides consultations for children and adults within the enclave, and health workers refer severe cases to the MSF supported hospital in Carnot. MSF also distributes monthly food rations in partnership with the World Food Program.
Berberati
MSF has been working at the Berberati regional university hospital since January 2014, to respond to the needs of displaced persons, victims of violence, pregnant women, and children. Currently, MSF is working in the general pediatrics and nutrition unit. In 2015, MSF admitted 6,099 patients in the pediatric ward of the regional hospital, of which 81 percent were admitted for malaria-related issues. Additionally, 1,265 children were treated for malnutrition.
In addition, MSF teams are carrying out health promotion activities and supporting four health centers in Berberati region. Training local staff is at the center of all their activities. Malnutrition, malaria, diarrhea, and respiratory infections are the main health issues encountered. Since August 2015, MSF has increased its support by also offering health care for mothers and infants. There have been a total of 20,000 consultations (for children and women) and 565 deliveries. Five-hundred seventy eight children with severe acute malnutrition were treated.
MSF also launched a measles vaccination campaign for children aged from six months to 10 years in Berberati and Mbako cities after the MOH alerted about suspected cases in the area. In total 27,844 children were vaccinated during the campaign. Since December 2015, mobile teams are running mass vaccination campaign. During the first round, 29,634 children under five have been vaccinated against seven diseases (polio, diphtheria, tetanus, whooping cough, hepatitis B, hemophilus influenza, pneumococcus) in five sub-prefectures in Mambéré-Kadei. Others rounds of vaccination are following during the coming months.
Ouham Pende Prefecture
Paoua
Since 2006, MSF has been running all of the departments of the Paoua Hospital (147 beds). In April 2014, MSF handed over the maternity and the surgery ward to the Ministry of Health and continues to support 95 beds in the hospital, covering the emergency room, internal medicine department, and pediatric ward. Between January and April 2015, the MSF teams performed 457 surgical operations.
MSF also supports the urban health center in Paoua for pediatric emergencies, pediatric consultations, and routine vaccinations. Since the beginning of January 2015, 2,571 children have been hospitalized, and 318 infants were admitted to the neonatal department.
The malnutrition program saw 1,110 children, of which 534 were hospitalized.
Outside of Paoua, MSF also supports seven health centers (Beboura, Bedamara, Bedaya, Betoko, Gouze, Pende, and Pougol) and provides medicinal products and therapeutic food.
Since September 2015, a multi-antigen vaccination campaign (pentavalent vaccine, polio, and PCV) in the Paoua sub-prefecture led to the vaccination of 310,000 children.
Ouham Prefecture
Boguila
On April 26 2014, 19 people from the Central African Republic, of which three were MSF staff, were killed during an armed robbery at the MSF hospital in Boguila. Following this, MSF has reduced its activities and withdrawn international staff from Boguila. The team is now based in Paoua and travels to Boguila once per week to support local staff, who continue to provide health care.
Over a year later, MSF continues to respond to the medical needs of the population in a region where insecurity and violence persist, and where there are no other health services. The facility now operates more as a health center than a hospital. MSF provides support for external consultations, treating HIV/AIDS, the six-bed observation ward, reproductive health activities, the dressings ward, the pharmacy, the laboratory, vaccinations, and outpatient nutrition.
MSF also supports five peripheral health post (Nana-Barya, Sido, Boaya, Bonnasé, and Markounda) where we treat the three main causes of morbidity (malaria, respiratory infections, and diarrhea) and provide nutritional services. Malaria is the main cause of consultations. In 2015, the MSF team provided 79,278 consultations, of which 72 percent were malaria-related; 542 children were admitted to the nutrition program, 3,377 prenatal consultations were provided, and there were 707 babies were delivered in MSF programs.
Patients requiring admission were referred to the Paoua regional hospital by MSF team. In 2015, 1,062 patients were referred to Paoua, of which 45 percent were suffering from severe malaria.
Bossangoa
MSF has been active at the Bossangoa Hospital since May 2013, supporting the Ministry of Health. In 2015, MSF maintained 24/7 presence at the hospital and provided support for reproductive health, the hospital nutrition treatment center (CNTH), pediatrics, mental health, and surgery. At the end of May, the external consultations service and outpatient nutrition treatment center were transferred to another organization in order to focus on other hospital services.
MSF build the building of a 30-bed intensive care unit and the renovation of the village for patients suffering from tuberculosis. MSF continues to support two health posts (Bowara and Benzambé) and a health center (Nana-Bakassa). In Kouki health post, MSF has set up a mobile clinic and a malaria point.
In 2015, MSF teams have provided 137,533 consultations, of which 77 percent were malaria-related. A total of 2,078 children suffering from malnutrition were treated, of which 978 were hospitalized. In addition, 7,733 prenatal consultations were provided and there were 1,329 deliveries. MSF teams also performed 711 major surgical operations
Preventive Treatment Campaign for Malaria
In order to protect children during the high malaria transmission period between June and December, and in order to tackle the increase in the number of admissions to medical facilities, MSF has launched a preventive treatment strategy for malaria in the Batangafo, Kabo, and Ndélé regions.
This innovative approach consists of each month distributing preventive treatment across three days for children aged under five years. During the first round, in five different locations, 15,399 children between three months and five years of age received the first dose of preventive treatment under the supervision of MSF teams. This was also combined with the distribution of insecticide-treated mosquito nets. The second and third rounds took place in October and November, with around 12,000 children covered despite the volatile security context. The MSF teams also organized vaccination (pentavalent vaccine and PCV) which led to 9,000 children being vaccinated.
Batangafo
MSF runs the 175-bed general referral hospital (150 beds) and supports three peripheral health centers in Batangafo. Many health posts in the area are not functional due to conflict. The PECADOM (Prise en charge à domicile) strategy has been followed in Kambakota area to improve people's access to health care.
In 2015, 74,372 consultations were provided and more than 7,000 people hospitalized. The number of consultations rose in the second quarter, with the beginning of the peak malaria season, and MSF teams attended to more than 40,000 malaria consultations. Batangafo is located on the frontlines of a conflict between rival armed groups—and sometimes also international forces—where skirmishes occur frequently. This town has the largest IDP camp in the CAR, with the total number of people living there reaching over 30,000. Last November, a new round of clashes rocked the town and led to over 14,000 people seeking refuge in the hospital for several days.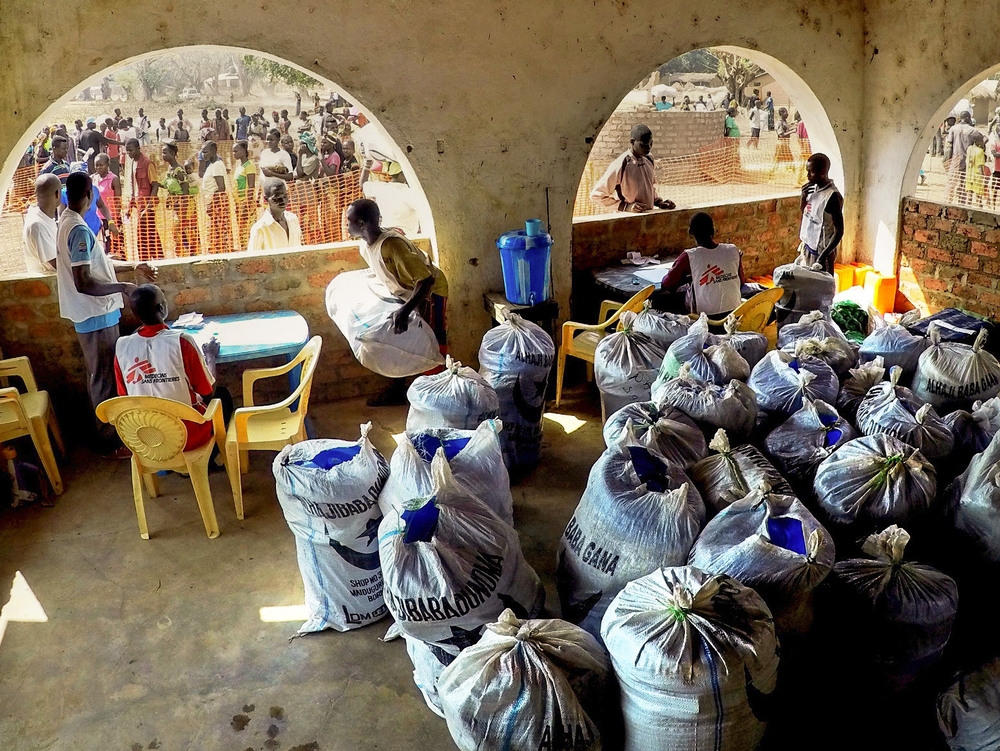 Kabo
Since 2006, MSF teams have provided medical assistance to over 50,000 people in the Kabo area. In 2015, MSF provided over 129,318 consultations at Kabo Hospital (almost half of them malaria-related) and assisted with 1,912 deliveries. 6,000 people were hospitalized.
The malaria prevention strategy, which began at the start of July in the Kabo area, had to be suspended in the peripheral areas of Moyenne-Sido, Farazala, and Gbazara due to security reasons. However, the first distribution organized in Kabo led to the preventive treatment of malaria for over 6,500 children, and the distributions in October and November covered around 5,000 children.
In 2015, major efforts were made to contact and assist the largely neglected nomadic communities in order to raise awareness about access to primary and secondary care. In October, around 500 children—including children from the Mbarara nomadic community—received vaccinations, anti-malaria treatment, and mosquito nets.
Bamingui Bangoran Prefecture
Ndélé
The MSF activities in Ndélé comprise of obstetrics, outpatient care, treatment of HIV/AIDS, and support for four peripheral health centers. In 2015, MSF provided 85,155 consultations and assisted over 38,436 cases of malaria. The Ndélé referral hospital has been supported by MSF since 2010. Teams have also approach nomadic communities.
Haute Kotto Prefecture
Bria
MSF opened a project for children aged under 15 years at the Bria hospital (51 beds) in August 2013. As elsewhere in the country, the health care available in Bria was virtually non-existent, so MSF decided to extend its presence. In 2015, MSF provided 44,416 medical consultations, and admitted 3,145 children to the hospital, 1,736 of which were for malaria-related reasons.
In March MSF ran a measles vaccination campaign, following an epidemic alert: 16,630 children aged under 15 years were vaccinated in Bria.
Ouaka Prefecture
Bambar
Since the beginning of the year, the number of displaced persons in the prefecture rose from around 30,000 people in 2014, to between 70,000 and 80,000 currently. This figure only includes people living in IDP camps, and does not include those in villages along roads, or populations living in the bush. The real number of displaced persons is unknown.
In order to support these populations, MSF has set up mobile clinics at nine sites (Bakala, Aviation, Kidjegra, Mosquée, Digui, Ngakobo IDP, Ngakobo Kotta, Goya). Given the high levels of malnutrition in Boykotta, MSF decided to provide support for the health post in terms of nutrition and malaria prevention. The teams provide medical consultations, pre- and postnatal consultations, outpatient malnutrition treatment, vaccination services, and a dressings service for the wounded. MSF also supported one health center in Bambari as well as nine malaria treatment sites, where close to 38,407 patients have been treated.
In 2015, the MSF teams have provided 63,654 consultations, of which 60 percent were malaria-related. Some 1,383 children were admitted to the outpatient malnutrition program, and 4,496 prenatal consultations were provided.
Mbomou Prefecture
Bangassou
At the end of February 2014, MSF began to work at Bangassou regional university hospital (HRUB) to assist the medical departments, which had been heavily disrupted due to the crisis, to resume their activities. The hospital has a capacity of 100 beds and has internal medicine, maternity, pediatrics, neonatology, and surgery departments. The hospital provides primary and secondary health care to an estimated population of 120,000 living in the region. In 2015, 1,400 surgical operations were performed, and there were 1,599 deliveries. As of March, MSF began to support peripheral health center activities in Niakari, Mbalazime, and Yongofongo. A total of 28,365 consultations have been provided.
In the middle of August, MSF launched a vaccination campaign against measles in the Bangassou and Rafai sub-prefectures, targeting 42,000 children aged six months to 15 years. This campaign involved the vaccination of 37,064 children (85 percent coverage), and the distribution of albendazole to children aged six months to 15 years.
In the two sub-prefectures (Bangassou and Rafai), 21,480 mosquito nets were distributed. A multi-antigen vaccination campaign is being prepared for the first quarter of 2016.
Haute Mbomou Prefecture
Zemio—Primary and Secondary Health Care
This project opened in 2010 following an influx of Congolese refugees and displaced persons from the Central African Republic. The prevalence of HIV/AIDS in Zemio is one of the highest in the country and MSF provides antiretroviral treatment to 960 patients.
Currently, MSF is assessing the possibility of decentralizing the treatment of HIV patient to health post in order to make access to treatment easier for stabilized patients. MSF also supports the external consultation, inpatient department, and reproductive health department at Zemio Hospital, along with four peripheral health posts and eight malaria treatment points.
In 2015, MSF provided 43,343 consultations, of which 55 percent were malaria-related. Reproductive health is a key part of our activities, with a total of 1,990 prenatal consultations provided in 2015. Our teams have assisted 518 women with their deliveries.
Patient story
Melissa
Melissa is the mother of a seven-month-old girl who arrived at Batangafo hospital with malaria and anemia, requiring a blood transfusion.
"I had to leave my other children with my family to come to the hospital. My baby had a fever for three days. When she started having convulsions I decided to search for help.
"After two days walking to the health center in Boulam, they referred us to the hospital by motorbike taxi."
After two days at the hospital, Melissa's daughter's condition had improved.
Related News & Publications