Why are we there?
Armed conflict
Endemic/epidemic disease
Health care exclusion
Democratic Republic of Congo: Latest MSF Updates
Our Work
This is an excerpt from MSF's 2014 International Report:
In 2014, Doctors Without Borders/Médecins Sans Frontières (MSF) continued to respond to the humanitarian consequences of conflict in the eastern provinces of the Democratic Republic of Congo (DRC), as well as to outbreaks of disease across the country.
DRC's successive wars have had a severe impact on the health infrastructure and government-funded services. Violence, fear, and displacement have not abated in the eastern provinces, despite a discourse of stability linked to the large peacekeeping force. MSF works closely with the health ministry to provide comprehensive health care in some of the country's most remote areas, where people cannot obtain or afford the medical care they need. MSF's basic and specialist services typically cover outpatient and inpatient consultations, surgery, reproductive and mental health care, pediatric care including vaccinations, treatment for malnutrition, HIV, and tuberculosis, and aftercare for victims of violence—notably sexual violence. Teams continually work at preventing and limiting the frequent, life-threatening outbreaks of malaria, cholera, and measles.
Four Congolese MSF staff members were abducted in 2013 in North Kivu. This year, one of them, Chantal, was reunited with her family and she decided to start working with MSF again. Efforts are ongoing to locate Philippe, Richard, and Romy.
Video
North Kivu
The MSF-supported 300-bed general reference hospital in Rutshuru remains the only place where the host population and displaced people can obtain specialist health care in Rutshuru territory. More than 28,800 patients were admitted this year, a 31 percent increase over 2013. Teams also work in Masisi Hospital, an outpatient center in Masisi town, and Nyabiondo health center, west of Masisi. Mobile clinics visit camps for displaced people and remote villages in the area. A vaccination campaign in an extremely remote mountainous area south of Masisi immunized over 4,000 children and pregnant women against a wide range of diseases.
MSF provides basic and specialist health care in Mweso and Walikale Hospitals and associated health centers, and runs malaria-focused mobile clinics in Walikale health zone, where the disease is rife. Over 16,200 patients were treated for malaria in 2014.
As mortality rates had decreased, MSF withdrew from Mugunga III camp, Goma, after providing 21,100 consultations in 2014. Activities in Bulengo were handed over to other organizations in December. A small cholera treatment center on the outskirts of Goma and its surrounding camps continued to treat a small but steady stream of patients. In Birambizo health zone, MSF supported pediatric care in Kabizo health center until May and a cholera outbreak was brought under control in July in Kibirizi.
South Kivu
MSF continues to support Shabunda General Hospital, the smaller Matili Hospital, and seven health centers. Basic and specialist care was also provided to displaced people and host communities in Minova and Kalonge through the local hospitals and health centers. The Kalonge project was handed over to the health ministry in April.
In Fizi territory, MSF treated more than 101,200 patients for malaria in its Baraka project, assisted 8,500 births and cared for 2,035 cholera patients. A full range of health care was available at Lulimba Hospital in Kimbi Lulenge health zone. MSF saw an increase in patient numbers in 2014, as other aid organizations providing health care left the region—staff conducted more than 76,100 outpatient consultations and treated 42,800 patients for malaria. A sexual and reproductive health clinic was opened in October in Misisi, offering ante- and postnatal care, treatment for sexually transmitted infections, care for victims of sexual violence, and family planning services.
Katanga
MSF continued to develop preventive measures with other partners to combat the recurrent outbreaks of cholera in Kalemie town. These included improving water supply, distributing residential water filters in Kataki health area, and vaccinating 51,400 people against the disease in July. Some 700 people received treatment from MSF during a cholera outbreak in July and August. In Kongolo, MSF treated more than 12,300 children under five for malaria and admitted over 1,350 children with severe or complicated malaria to Kongolo Hospital between March and June. Teams also worked at six health centers, treating respiratory and parasitic infections and diarrheal diseases. In the provincial capital Lubumbashi, MSF responded to a spike in measles cases by providing clinical care in two health facilities. Following a cholera outbreak in the city, MSF distributed water, disinfected family homes, and rehabilitated wells.
MSF supported Shamwana Hospital and six health centers in the conflict- and displacement-affected health zones of Kiambi, Mitwaba, and Kilwa with basic and specialist health care. Some 67,000 outpatient consultations were carried out. A community-based malaria program with nine fixed sites along the Mpiana–Kishale axis was set up, providing treatment for simple malaria in villages in the area. A motorbike referral system was expanded to transport patients to the hospital and road rehabilitation work was undertaken to improve access to health care. More than 37,000 people were treated for malaria during a 14-week emergency intervention in Kinkondja.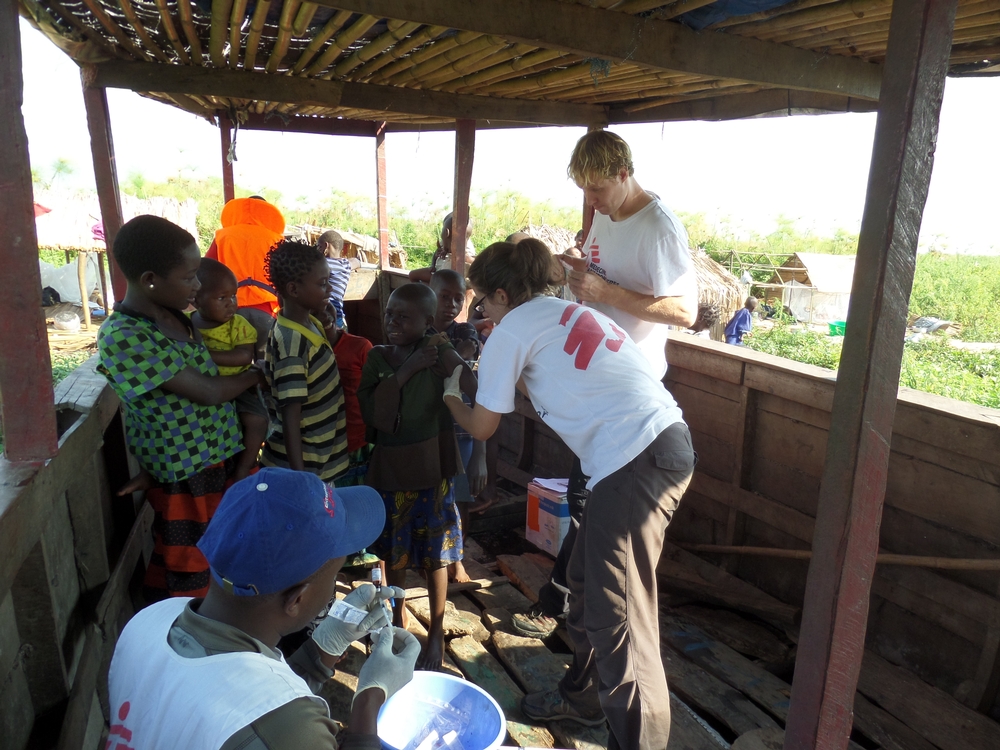 Orientale
Violent clashes between the Congolese army and armed opposition groups continued to take a toll on people in Gety health zone. An MSF program here focuses on health care for women and children under five. MSF also manages Gety Hospital's emergency and intensive care wards, pediatric and maternity services, blood transfusions, and laboratory. A neonatal ward was opened in September. To relieve pressure on health centers in the area, MSF donated medicines and treated more than 96,800 patients. When large numbers of people were displaced by extreme violence in Nia Nia, Mambassa, and Bafwasende health zones, MSF provided medical care, including urgently needed support for victims of sexual violence, from June to November. In October, teams offered health consultations in Ituri district following an influx of 25,000 people escaping conflict in North Kivu.
The project screening and treating patients with sleeping sickness (human African trypanosomiasis) in Ganga-Dingila, Ango, and Zobia was closed due to low prevalence but activities were ongoing in Doruma. MSF continued to manage Dingila Hospital's intensive care and emergency wards until December when the project was closed.
Kinshasa
For many years now HIV treatment has been increasingly decentralized in Kinshasa and a community-based program manages the distribution of antiretroviral medication to stabilized patients. The MSF HIV program is now focused on providing comprehensive and high-quality care to people living in the Massina neighborhood and this includes proactive testing, especially for high-risk groups, the introduction of community ARV groups and the implementation of viral load monitoring.
Ensuring Rapid Response to Emergencies
MSF's emergency response teams monitor, investigate, and respond to disease across DRC as needed, and interventions were launched following outbreaks of measles, typhoid, Ebola, and suspected yellow fever. MSF's emergency teams also responded to the needs of displaced people and victims of violence. When the first Ebola cases were confirmed in August, MSF set up two treatment centers and worked with the health ministry to manage and control the outbreak. Of 25 Ebola patients treated at these centers, 13 recovered. The outbreak was over by November.
At the end of 2014, MSF had 2,999 staff in the Democratic Republic of Congo. MSF has been working in the country since 1981.
Patient Story
Popol, 52 years old
I did not want to tell anyone about my HIV status. After the screening, I had to start treatment, US$200 treatment. But I had no money, not even US$10. A doctor referred me [to MSF] for free care.
I am a salesman in a store; this is how I feed my wife, my daughter and my son. I was already working in this shop before, but I was sick all the time, I was no longer useful. So I was fired. I stayed at home. When I started ARVs, gradually I regained my health. But I had nothing to eat. A friend advised me to go to my ex-boss and explain. I told him that I was sick with HIV, but that I was taking the free drugs and had regained strength. The boss thought it brave that I came to talk to him like that, and gave me my job back.
Related News & Publications