Why are we there?
Armed conflict
Endemic/epidemic disease
Health care exclusion
South Sudan: Latest MSF Updates
Doctors Without Borders/Médecins Sans Frontières (MSF) has worked in the region that today constitutes the Republic of South Sudan since 1983. Today, we employ more than 3,000 South Sudanese staff and 330 international staff to respond to a wide range of medical emergencies and provide free and high quality health care to people in need in 17 project locations across seven of South Sudan's 10 states and the Abyei Special Administrative Area.
MSF is particularly concerned about the precarious health situation inside UN Protection of Civilians (PoC) camps in Bentiu and Malakal, where tens of thousands of new residents have arrived in recent months. In both the PoCs, humanitarian resources are under strain and MSF teams are treating spikes in disease, including malaria, diarrhea, respiratory tract infections, and malnutrition.
2015 activities by the numbers
(January 1–February 29, 2016)
110,822 outpatient consultations, of which 44,727 were for children under five years old
31,901 patients treated for malaria
6,729 patients provided hospital care, of which 2,768 were children under five years old
2,148 surgical operations and 622 war-wounded treated
1,628 babies delivered
MSF Operations in Response to the Medical Needs in South Sudan
MSF condemns the outrageous violence in the Malakal Protec­tion of Civilians (PoC) site on February 17 and 18, which claimed the lives of 19 people, including two MSF staff. The violence left humanitarian facilities destroyed and thousands of civilian shelters burned to the ground. The population of 47,000 who were sheltering in the camp at the time of the attack had already suffered through two years of conflict and displacement and were living in inhumane and overcrowded conditions. With large sections of the camp now destroyed, protection of civilians and a sustained humanitarian effort is required to provide basic life-saving services to the affected population. MSF strongly condemns the attack, which is yet another instance of brutality in a conflict marked by utter lack of respect for the lives and dignity of civilians. At the same time, MSF calls on all armed actors to respect the provision of medical assistance to vulnerable populations in the wake of the unacceptable looting and ransacking of its medical center in Pibor. Thousands of residents fled to the bush to escape the violence with no access to assistance. In this moment of immense medical need, MSF has launched an urgent response, but its capacity to respond to medical needs in Pibor, Lekuangole, and Gumuruk has been severely diminished as a result of this unacceptable looting.
MSF Condemns Outrageous Attack in UN Protection Site in Malakal
Two MSF staff were among 19 people killed during brazen and unacceptable violence in the PoC site in Malakal on February 17 and 18. At least one of the two MSF staff died while attempting to assist the wounded. In total, MSF treated 108 people injured in the fighting, 46 of whom suffered from gunshot wounds. MSF has received further reports that other people who tried to put out fires or help the wounded were targeted and shot. Large sections of the camp were destroyed, including medical and humanitarian services, as well as thousands of civilian shelters. MSF had warned previously that living conditions in the camp had already been overcrowded and jeopardized the health of the population due to poor hygiene, sanitation, and access to water. This was of particular concern as the 47,000 people seeking protection in the camp were already extremely vulnerable, having endured two years of displacement, conflict, violence against civilians, and destruction of their properties and livelihoods. Now, the population confronts yet another, far more severe humanitarian crisis.
In the wake of the destruction in the PoC, thousands of people are living in dire conditions, in sections of the camp not designed for human habitation and without adequate access to hygiene, sanitation, or shelter. The MSF hospital provides the bulk of the secondary health care available to the population. Teams are already seeing increased numbers of patients admitted for respiratory tract infections and diarrhea, illnesses which are associated with poor living conditions. A further 5,000 displaced people are now living in Malakal town, where MSF has begun to provide mobile clinics to provide basic primary health care to the population. Protection of the population, which continues to fear for its security, must be assured and the humanitarian response in the immediate aftermath of this tragedy must be sustained to improve the conditions of the population and prevent outbreaks of disease.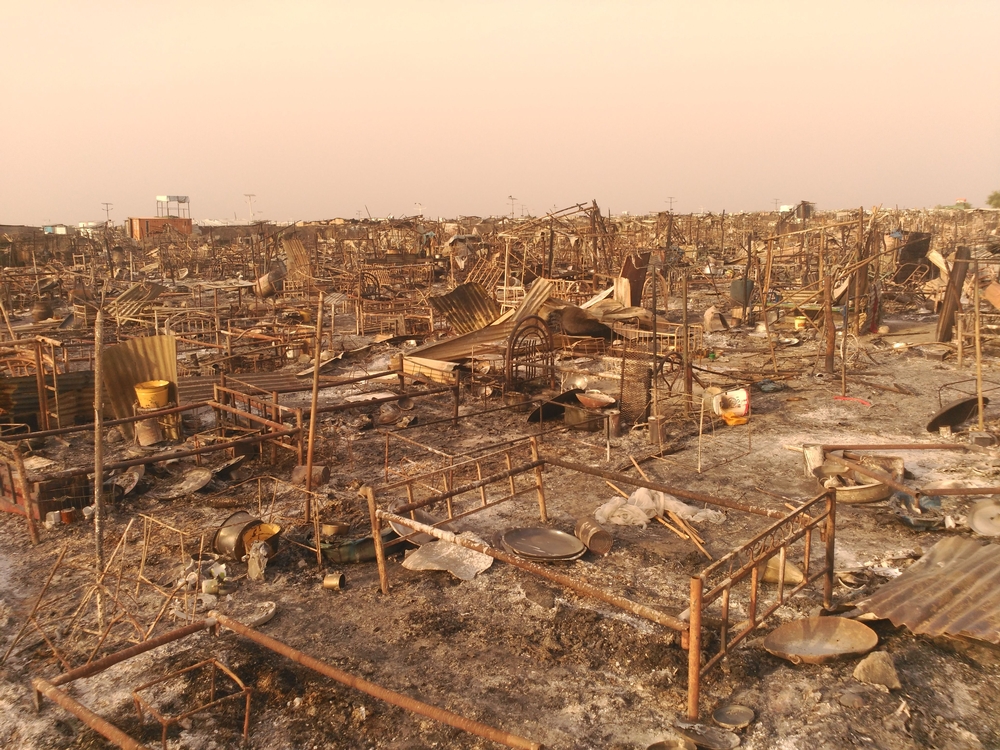 MSF Launches Urgent Medical Response in Pibor
After being forced to evacuate from the MSF compound amid heavy fighting in Pibor from February 23 to 25, MSF has resumed minimal medical operations in its looted facility in response to urgent medical needs. Amid intense fighting, the MSF team was forced to evacuate to the UN base due to the imminent possibility of being caught in the crossfire between armed groups. In the immediate aftermath, the medical team supported treatment of 36 wounded patients, including one six-year-old child suffering from a gunshot wound who died because it was impossible to provide the intensive care treatment needed. The team established a medical clinic and temporary hospitalization ward in the UN base, where 2,000 people are seeking shelter in substandard conditions, and almost two thirds of MSF's patients are children under five years old suffering from malaria, respiratory tract infections, or diarrhea.
In Pibor town, the MSF medical center was thoroughly looted in the wake of the fighting. Medical equipment, fuel, patients' beds, life-saving medicines, and therapeutic food used for treating malnourished children have all been stolen. MSF recently relocated back from the UN base to the MSF compound, where medical teams have resumed limited medical services. Thousands of people fled to the bush amid the recent fighting, where they have no access to medical assistance. MSF completed an assessment mission to Verthet, where teams treated three patients and encountered significant unmet health needs. However, the unacceptable looting of MSF's medical center has greatly reduced its capacity to respond to present needs or to sustain its programs in Pibor, Lekuangole, and Gumuruk at the level and scale that was previously provided. MSF strongly condemns this unacceptable attack on the provision of medical assistance. The situation on the ground remains tense and MSF demands that all armed actors respect the provision of health care.
Responding to Urgent Needs in Leer and Mayendit Counties
MSF is providing urgent medical assistance to vulnerable, conflict-affected populations in Leer and Mayendit counties with clinics in Leer Hospital and Thonyor as well as mobile medical and nutritional clinics. The population is this region has been heavily affected by conflict, including long-term displacement, destruction of shelters, and livelihoods. With the return of other humanitarian actors in 2016, MSF is beginning to finally see the number of children admitted in its therapeutic feeding programs decreasing. However, the population remains highly food insecure and dependent on humanitarian assistance for survival. A sustained humanitarian presence is urgently needed to prevent deterioration in the health of this extremely vulnerable population.
Other urgent medical needs MSF is addressing in the region are high levels of acute watery diarrhea, skin and eye infections, and respiratory tract infections; all of which are associated with the deplorable conditions in which people have been living while fleeing from conflict. The rainy season will begin in the coming months, along with accompanying annual outbreaks in life-threatening disease, which will increase the medical needs. MSF has been looted three times in Leer since conflict began. As a result of repeated lootings, MSF's capacity to provide medical assistance is greatly reduced from the scope and quality of services it was able to provide before the conflict began.
Juba
To escape the violence in Juba, tens of thousands of people sought refuge in UN compounds, where Protection of Civilians (PoC) sites were designated. MSF set up medical facilities in the Tomping and Juba House PoC sites, but spoke out about the deplorable living conditions there, and in other PoC sites in the country, throughout the year. With the gradual stabilization of medical needs, and as other organizations increased their activities, MSF's medical projects in the Juba PoC sites were handed over to the International Medical Corps, South Sudan Red Cross, and Health Link South Sudan in August.
Unity State
The rapidly worsening security situation in January forced the evacuation of international staff from Bentiu. In April MSF was forced to stop providing TB and HIV care in the hospital because of increased violence. The town's residents fled to the nearby UN compound, where the population swelled from 6,000 people to more than 22,000 in a matter of days.
By the end of the year, the number had increased to 40,000. At the PoC site, MSF maintained a 24-hour emergency room and provided more than 10,000 outpatient consultations, treated nearly 1,000 children for severe malnutrition, and performed 300 emergency surgical interventions, 83 percent of which were conflict-related—mostly gunshot wounds. Tens of thousands of children were vaccinated against measles inside and outside the PoC. MSF ran mobile clinics and set up both a general and an antenatal clinic for people outside the site. Another team maintained a program of comprehensive medical services for some 70,000 Sudanese refugees at Yida camp, and undertook a pneumococcal vaccination campaign—the first ever in a refugee setting. Some 10,000 children under the age of two were vaccinated. MSF also has various decentralized clinics and malaria points throughout the PoC.
In Leer, the international MSF team was evacuated in January due to increased insecurity. Shortly afterwards, 240 South Sudanese MSF hospital staff were forced to escape into the bush with their families and some of the most severely injured patients. By mid-April, the local population had begun to return to the town and in May medical activities resumed. By this time malnutrition in the area had reached crisis levels, and during May and June MSF treated more patients for malnutrition than in all of 2013. Along with the therapeutic feeding program, MSF also provides primary health care for the violence-affected, displaced population through mobile clinics.
Video
South Sudan | A Hospital Destroyed, A Community Devastated
Jonglei State
Some 70,000 people fled the town of Bor as a result of violence and the state hospital was ransacked. In April, an MSF team helped the health ministry repair the hospital and resume basic medical activities. MSF now provides support in the emergency room, pharmacy, pediatric inpatient department, and with vaccinations. A team also treated people wounded during an attack at Bor airport. MSF had long supported Lankien Hospital, and in 2014 began emergency surgery to treat the increasing number of war wounded. Of the 910 major surgical interventions performed at the hospital, 76 percent were violence-related. There was also a massive outbreak of kala azar (visceral leishmaniasis) and more than 6,000 patients were treated.
Insecurity in Pibor in 2013 caused MSF to withdraw from a fixed health center and operate instead through mobile clinics. By July 2014, the situation had stabilized and MSF resumed activities in Pibor town, including basic health consultations, inpatient services, and maternity care. Teams also offered health care in nearby Gumuruk, Lekwongole, and Old Fangak, areas regularly affected by the war. In February 2016, MSF was forced to leave the compound in Pibor due to heavy fighting and shelter in the UN base on the other side of town. The MSF compound was then looted, and medical supplies, therapeutic food, and even patients beds were stolen. Anything that was not taken, including drugs and medical documents, was strewn around the compound. MSF continues to treat patients, particularly young children suffering from malaria and other infections, at the UN compound. 
Upper Nile State
In a pre-existing project at Nasir Hospital, a monthly average of 4,100 consultations were carried out until heavy fighting broke out nearby. The town's population fled and the hospital was evacuated in May. MSF staff visiting in June found the hospital completely looted and the town deserted. They had no way of knowing the whereabouts or the health status of those who had fled.
Due to mounting insecurity, MSF had to stop working in the Malakal Public Hospital in April and rapidly opened a clinic in the PoC where 20,000 people were sheltering. In Melut, teams provided medical care to those people displaced by violence, which included treating them for kala azar and TB. As the health situation in the refugee camps stabilized over the year, MSF reduced its number of outpatient clinics.
Lakes State
MSF provided basic and specialist health care, including vaccinations, in Minkamman camp, Awerial.
Around 95,000 displaced people live in the camp, and more have settled in the surrounding areas. Teams carried out more than 52,000 outpatient consultations and 2,700 mental health consultations and also launched vaccination campaigns against measles, polio, cholera, and meningitis.
Following a measles outbreak in Cueibet county in late March, MSF provided support to the health ministry and organized a vaccination campaign against measles and polio which reached 32,700 children under five.
Northern Bahr El Ghazal State
In Pamat, close to the border with Sudan, MSF continued to offer basic and specialist medical care to people displaced by conflict. Staff distributed relief items and provided health consultations to new arrivals in December. Since 2008, MSF has supported Aweil Civil Hospital, with around-the-clock pediatric and maternity services, including high-risk and emergency obstetric care—more than 7,100 women were admitted to the maternity ward and over 1,500 complicated deliveries were assisted during the year. In addition, MSF treated more than 30,000 people for malaria in 2014—three times as many as the previous year.
MSF has also supported Yambio State Hospital in Western Equatoria state since 2008, with specialist pediatric and antenatal care, surgery, and treatment for HIV. There are more than 3,000 patients in the treatment program. In Warrap state, MSF runs a small hospital in Gogrial town providing basic and specialist care, including an operating theater for emergency surgery.
Agok
MSF continued to work in Agok, 25 miles south of Abyei, an area contested by Sudan and South Sudan. In the only hospital providing specialist services in the region, teams offered inpatient care, emergency surgery, maternity services, and an inpatient therapeutic feeding center. Early in the year a triage area and emergency room were also opened. Over 1,550 deliveries were assisted and 6,600 people were admitted to the hospital. In February, the mobile clinics run by MSF ceased due to security concerns, and in March outpatient services were handed over to the NGO GOAL.
Cholera Emergency Response
On May 15, the health ministry declared a cholera outbreak in Juba. MSF opened and ran five cholera treatment centers and three oral rehydration points, and provided technical assistance at Juba Teaching Hospital. MSF also responded to small outbreaks in Torit, Eastern Equatoria state, and in Malakal and Wau Shilluk, Upper Nile state.
This is an excerpt from MSF's 2014 International Activity Report:
Throughout 2014, Doctors Without Borders/Médecins Sans Frontières (MSF) responded to emergency medical needs arising from conflict while striving to maintain its pre-existing, essential health care programs in South Sudan.
When fighting broke out in the capital Juba at the end of 2013 and rapidly spread throughout the country, MSF started dispatching medical supplies and staff to critically affected locations. The number of projects had soon increased from 13 to more than 20 across nine states. Many people fled their homes and thousands hid in the bush. An estimated 1.5 million people remained internally displaced by the end of 2014.
Since the beginning of the crisis in South Sudan, MSF has called on all parties to respect the integrity of medical facilities, and to allow aid organizations to access affected communities. In January 2014, there was heavy fighting in the town of Leer, southern Unity state, and the MSF-supported hospital was looted and set alight. The provision of outpatient and inpatient care for children and adults, surgery, maternity services, treatment for HIV and tuberculosis (TB), and intensive care was interrupted for several months.
Medical care has come under attack time and again in South Sudan, with patients shot in their beds, wards burned to the ground, and medical equipment stolen. Hundreds of thousands of people have been denied lifesaving assistance because of these acts. MSF staff witnessed the gruesome aftermath of armed attacks and clashes in Malakal in Upper Nile state, when they discovered patients murdered inside the town's teaching hospital. After fighting in Bentiu in April, people who had been seeking shelter inside the hospital were killed on the grounds.
At the end of 2014, MSF had 3,996 staff in South Sudan. MSF has been working in the area that is now South Sudan since 1983.
Related News & Publications