Why are we there?
Armed conflict
Displacement
Yemen: Latest MSF Updates
MSF Projects in Yemen (April 2016)

Crisis Update: April 28, 2016
In Yemen, Doctors Without Borders/Médecins Sans Frontières (MSF) has a total of 2,102 staff working in the country: 97 international staff and 2,005 Yemeni staff. Currently, MSF is working in Aden, Al-Dhale', Taiz, Saada, Amran, Hajjah, Ibb, and Sana'a, managing and providing urgent support to 29 hospitals and health centers.
Since March 2015, MSF has sent approximately 860 tons of medical supplies to Yemen. Teams have treated upwards of 108,000 patients in the emergency room (ER), including more than 37,000 war wounded. MSF has also provided free medical consultations to almost 49,000 displaced people, carried out more than 15,000 surgeries, and assisted more than 10,000 births
The conflict in Yemen currently has the country divided between the Houthi movement, supported by former president Saleh, which controls the north of the country (including the capital Sana'a) and continues its southward advance, and an anti-Houthi coalition based mainly in the South. President Hadi of the transitional government fled to Saudi Arabia in March.
A coalition of mainly Gulf states led by Saudi Arabia started airstrikes against the Houthi on March 26, with the declared aim of stopping the advance of the Houthi and to reinstate President Hadi. The Houthi are seen by Saudi Arabia as a proxy group for Iran. Other countries participating in this Saudi-led coalition against the Houthi are Qatar, Bahrain, Kuwait, UAE, Egypt, Jordan, Morocco, and Sudan. Other countries, including the USA, are providing logistics and intelligence support.
While the political struggle unfolds, civilians are caught in the crossfire. MSF is responding to the needs of civilians affected by violence. It remains extremely difficult to move within the country to evaluate needs and provide assistance, due to the fighting and the airstrikes.
Access to Healthcare 
On January 10th, 2016, the MSF-supported Shiara hospital in Razeh, northern Yemen, was hit by a projectile, killing six and injuring seven. This is the third medical facility run by MSF to be partially or completely destroyed in the past three months. On December 2nd, the MSF tented clinic in Houban, Taiz governorate was bombed by the Saudi-led coalition, killing one person and injuring eight others. The MSF facility in Haydan, Saada governorate was bombed on Oct. 26th. This hospital was the only remaining operational facility in the district, covering a population of nearly 20,000 people.
In mid-January 2016, MSF teams gained access to the besieged enclave of Taiz, delivering 15 tonnes of essential medical supplies – the first such delivery since August 2015.
Large civilian populations also remain in towns in Saada and north Amran governorates, near the Saudi border. Many health facilities have been damaged or destroyed, medical staff have fled, and transport is extremely challenging due to high fuel prices and insecurity on the roads.
The MSF Emergency surgical hospital in Aden is still treating victims of violence, including war wounded referred from the frontline north of Aden, and patients wounded during clashes among armed groups or violent crimes.
A fuel blockade is still crippling the country. Fuel is readily available on the black market, but at up to fives times the regular price. It is extremely difficult for the general population to move anywhere, food and water costs continue to increase, and hospitals have inadequate provisions of diesel to keep generators running. Sana'a remains without city power, and populations not living in direct proximity to health structures do not have the means to access healthcare. 
Aden
Aden is currently dominated by Southern Resistance Forces, backed by the military coalition led by Saudi Arabia.
MSF is running an emergency surgical hospital in Sheikh Othman District, in the north of the city. The hospital provides free medical care in an emergency room, a hospitalization ward, and an operating theater, and provides mental health and physiotherapy consultations.
A medical doctor and nurse conduct weekly visits to Aden Central Prison to provide primary health care services. An average of 50 consultations are provided every week.
Training
Training is part of MSF's regular activities in the hospital in the form of on-the-job training for MoH doctors and nurses. MSF has one doctor and two nurses at a time in the hospital. Started in February 2016, the program has trained 14 doctors and nurses so far.
Support for Other Hospitals
MSF has supported Ibn Khaldoun Hospital in Lahj with regular donations of medical supplies since December 2015 and Al-Razi hospital in Abyan since February 2016. This support includes medications for the emergency rooms and emergency operating theater supplies for Lawadar Hospital Abyan and Al-Razi Hospital in Abyan.
Blood Bank
MSF provided 700 screening test kits to the national blood bank in Aden to restart their blood donation activities.  
Video
Amran
The situation North Amran Governorate is relatively calm; as a result people are fleeing conflict to settle in this area. MSF has been providing general consultations to displaced people with mobile clinics.
MSF supports Al-Salam Hospital and Huth Health Center with health care provision, donations of medication, oxygen, logistical equipment, electricity, human resources, and a referral system. MSF provides medical supplies, trains personnel in emergency care, repairs and improves damaged structures, and runs ambulance and reference systems in a number of health structures in Amran Governorate.
Hajjah
Though the security situation in Hajjah city has been relatively calm, war-wounded people continue to arrive to at the MSF-supported Al-Jamoorhi Hospital from the front line area.
In the displaced persons camps of Abs District, MSF is supplying drinking water to 16,000 people, installing bladders and regularly supplying water to meet minimum humanitarian standards in the camps. Through a system of mobile clinics, MSF teams are also providing basic medical care as well as monitoring the nutritional situation.
In Abs Hospital MSF supports emergency cases in the ER, the pediatric ward, maternity, and emergency surgery with post-operative care. MSF also refers complicated cases to the specialized hospitals in Hajjah and Hodaida.
In 2016, a higher number of patients have reached the Abs Hospital. A referral System with Hayran and Mustaba has been put in place to guarantee that severe cases reach the hospital. MSF is facilitating the transport for these patients.
Following floods in Hajjah Governorate in mid-April, MSF distributed non-food item kits to 184 families.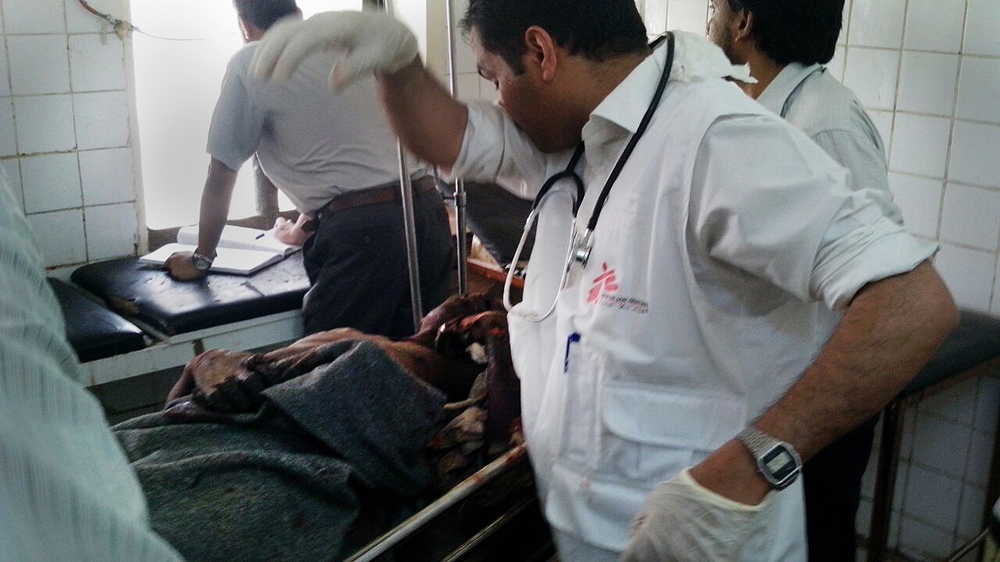 Al-Dhale'
In Al-Dhale' governorate, MSF's support continues for the hospitals in Al-Dhale', Qataba, and the health centers in Al Azariq.  MSF activities in Al-Dhale' include running the emergency room, outpatient consultations, surgeries, inpatient services, patient referrals, an observation room, pediatrics, nutrition program, and maternity and reproductive health, spread over the three sites. In January alone, a total of 5,000 outpatient and emergency room consultations were carried out by the MSF teams. 
Sa'ada
MSF-supported Al Jumhori Hospital in Sa'ada City continued its activity in providing lifesaving health services to patients in the emergency room, maternity, and operational theater, and in the inpatient department. After stabilizing patients with complicated conditions, MSF refers them to Al-Jumhori Hospital in Sana'a, where MSF covers all the costs of the treatment. In addition, MSF is providing assistance in the emergency room and the maternity department of Razeh Hospital, as well as organizing referrals to Al-Jumhori Reference Hospital in Sa'ada City.
The Haydan Health Center, which was struck in an airstrike on October 26, 2015, has resumed some activities. MSF repaired the staff accommodation room and re-opened an emergency room there in late December.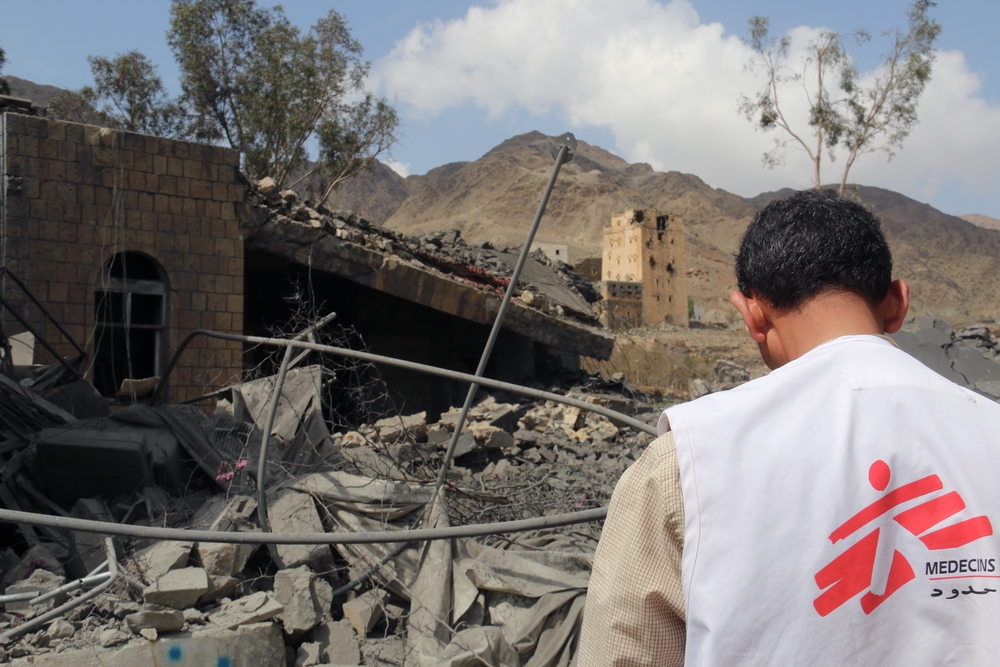 Taiz
The situation in Taiz remains critical, with some of the heaviest and most sustained fighting in the country. MSF runs and supports hospitals in Taiz, which have been receiving thousands of war-wounded over the last months. An increase in fighting in March resulted in the treatment of over 1,000 war wounded in that month alone.  Most of the wounded are coming from within the city, where many civilians are caught in the middle of the intense fighting. Patients MSF seen by MSF in Taiz mainly suffer from injuries due to airstrikes, blasts, shellings, gun shots, snipers, and recently landmines. Access in and out of the city remains restricted and dangerous for civilians and humanitarian actors alike.   
In November 2015 MSF opened the Mother and Child Hospital in the Al-Houban area of Taiz. Services include an emergency room, OPD for children under five years old, maternity, reproductive health, an operating theater for Caesarean sections, pediatrics, nutrition programs, and patient referrals. MSF provides at least 300 general consultations to mothers and children daily in the hospital.
MSF also provides medications to the emergency room and emergency OT supplies to Khalifa Hospital in Al-Turba in Taiz. 
Ibb
MSF began operations in Ibb Governorate in mid-2015. Ibb is the most densely populated region in the country and borders two of the active war's front lines.
Since the first days of 2016, MSF supports the emergency room department of Ibb Governorate's largest central hospital, which is the most important referral medical structure in the region with a catchment population of 2.5 million people. The objective is to incrementally offer free access to good quality emergency health care in general and to improve the hospital's capacity to clinically manage a large influx of wounded (mass casualty management) in particular.
Sana'a
MSF continues to support the emergency room in Al-Kuwait Hospital in Sana'a, and Jumhori and Al-Thawra hospitals, the three main hospitals in Sana'a. MSF supports war-wounded patients in Al-Jumhori and Al-Thawra hospitals and also distributes war wounded kits in the districts surrounding Sana'a like Arhab, Hamdan, and Jihnanah.
MSF's support to the Ministry of Health's HIV program in Sana'a continues, with 97 percent of the program's 1,300 patients receiving lifesaving antiretroviral treatment despite the tensions and violence in the city.
MSF also has also provided regular blood testing kits to the National Blood Bank in Sana'a since September 2015.
Video
Our Work
This is an excerpt from MSF's 2014 International Activity Report:
High levels of poverty and unemployment combined with continuous insecurity make it difficult for Yemenis to access health care.
Basic health care and lifesaving surgical care is provided by MSF in Al Azaraq and Qataba'a districts of Ad Dhale governorate. More than 47,000 outpatient consultations took place in 2014. Emergency surgery for victims of violence is available in Al Naser General Hospital, Ad Dhale city. The team performed around 300 surgical procedures here between June and September, when they were evacuated because of insecurity.
Amran
MSF teams in Amran continued to support Al-Salam Hospital, providing emergency, maternity, inpatient and outpatient services, and assisting in the laboratory and blood bank. More than 2,300 surgical interventions and 25,300 emergency consultations were carried out, 5,200 patients were admitted to the hospital, and over 2,500 babies were delivered during the year. To assist the communities in the remote Osman and Akhraf valleys, MSF supported the reopening of Heithah health unit in April, but insecurity caused the suspension and then complete cessation of activity in November.
Rapid Emergency Response
MSF set up a team to provide rapid medical aid following violence and other emergencies. Medical supplies were donated to clinics and hospitals, relief items were distributed to people forced to leave their homes by conflict, and direct care was offered to victims of violence and the displaced. Medical items were donated to 38 health facilities in five governorates, including the capital Sana'a, and hundreds of displaced people received direct emergency support.
Reducing HIV Stigma
Lack of knowledge about HIV/AIDS among health care providers has been the main cause of stigma and discrimination in Yemen. MSF trained staff in seven hospitals as part of its work with the National AIDS Programme and its advocacy resulted in a dramatic increase in the number of people getting tested for HIV, including pregnant women, and in the number of HIV-positive patients admitted to Al Gumhuri Hospital in Sana'a.
MSF closed the mental health program for migrants in detention that had opened in 2013. The number of new arrivals had stabilized, and there were organizations ready to take over running the project.
At the end of 2014, MSF had 562 staff in Yemen. MSF has worked in the country since 1994.
Patient Story
Mohamed, from Shabwah
My nephew was shot during gunfire in Shabwah. There was no hospital … nothing in the area. The only place we could bring him was here [MSF hospital in Aden]. We sincerely thank MSF for the unconditional medical care they offered to him and to everybody in this hospital.
Related News & Publications