Sexual Violence: Latest MSF Updates
MSF medically treated 11,200 patients for sexual violence-related injuries in 2014.
Facts
Sexual violence includes rape, sexual abuse, and sexual exploitation, as well as forced sterilization and female genital mutilation
Doctors Without Borders/Médecins Sans Frontières (MSF) strives to treat victims of sexual violence in all of its programs worldwide. Specialized programs for such patients are operated by MSF in more than 120 projects, and include both medical and mental health care.
Sexual violence affects millions of people, destroying lives and families and damaging communities. It is a medical emergency, the impact of which is compounded in many countries by a dire absence of health care services for the victims.
In conflicts, rape and other forms of sexual violence are often widespread and can be used to humiliate, punish, control, injure, inflict fear, and destroy communities. But in times of stability, sexual violence can also be a grave problem. In both settings, perpetrators are frequently people who are supposed to provide security, in their own homes and in their societies at large.
Any statistics on sexual violence provides an incomplete picture of the problem and its prevalence. The patients who come to receive treatment are overcoming shame, fear, stigmatization, and many other obstacles. Many people do not, or simply cannot, come forward to report their assault or seek treatment. However, finding immediate care after a sexual assault is critical in order to limit some of the serious consequences to the victim's health. Prevention of HIV must begin within three days, emergency contraception within five. But in some countries, access to these health services is limited or non-existent; receiving social support and seeking justice can be extremely difficult. Following incidents of sexual violence, many people find they are completely alone.
Sexual Violence During Conflicts
For many years, MSF has treated victims of sexual violence perpetrated during war. For example, in July, 2014, MSF opened a program offering medical and psychological care for victims of sexual violence in Bangui, Central African Republic.
"Sexual violence during war can have several objectives," says Françoise Duroch, MSF's expert on violence. "Rape can be used as a weapon, meaning it is carried out with martial reasoning and used for political ends. It can be used to reward soldiers, or remunerate them, to motivate the troops. It can also be used as a means of torture, sometimes to humiliate the men of a certain community. Systematic rape can be used to force a population to move. Rape can also be used as a biological weapon to deliberately transmit the AIDS virus. In war, we also find the phenomenon of sexual exploitation, forced prostitution, or even sexual slavery."
Sexual Violence in Stable Contexts
Sexual violence also affects millions of people living in post-conflict or stable contexts. In these situations, the perpetrators are often civilians known to the victims; they are neighbors, landlords, servants, or family members. In many cases, they are heads of household or other males expected to protect the victim. According to the World Health Organization (WHO), most cases of violence against women occur in their home and are committed by their partners. Many times, they include both physical and sexual aggression.
In 2014 in Papua New Guinea, at the Port Moresby Regional Treatment and Training project run by MSF, 50,000 people attended awareness sessions outlining the care available to the victims of sexual violence. Over 900 people were seen as outpatients, and there were 265 first consultations for rape.
In stable contexts as well as in war, sexual violence can sometimes be an activity condoned by governments. In one instance, an MSF emergency team in DRC provided medical and psychological care to Congolese women deported from Angola in 2007 by the Angolan military for working illegally. While being deported, women were systematically beaten and raped.
In Colombia, MSF is urging the government to recognize sexual violence as a medical emergency so victims can access the comprehensive care they need. In 2014, the MSF team opened a new program offering mental health services to victims of violence and sexual violence in Tumaco municipality in Nariño, and in Buenaventura.
Sexual Violence Against Men and Boys
Women and girls are the primary targets of sexual violence, but men and boys can also be victims of rape. This minority is often unrecognized and receive little care or protection. Sexual violence against men includes rape, sexual torture, sexual humiliation, and sexual slavery.
Men and boys are even less likely to report sexual abuse than women for fear of stigmatization, but also for lack of care and protection under the law. Some countries do not include male victims in their legal definitions of sexual violence. A small proportion of rape cases seen by MSF are men and boys. Male rape survivors can also find a lack of services targeted to them and are not likely to see male figures on billboards and in leaflets created to raise awareness of available treatment, which can isolated them even more.
Physical Effects and Medical Treatment
The consequences of sexual violence are physical, psychological, social, and economic. They affect not only the victims, but also their families and communities, leaving scars for life.
A violent case of sexual aggression may result in physical injuries, such as bruises, lacerations, stabbing, and fractures. Forced sex also causes vaginal or anal tearing, bleeding or infection, and chronic pelvic pain.
In extremely brutal cases the physical harm can be so severe that it leads to the opening of an orifice between the vagina and the bladder, or the vagina and the rectum. This is known as vaginal fistula, a condition of devastating consequences, which more commonly occurs after prolonged labor. Women with vaginal fistula have urinary or fecal incontinence, or sometimes both. Besides being painful, fistula leads to stigmatization and isolation.
A woman is more likely to contract HIV/AIDS from rape than during regular sexual relations, as tearing and cuts in the vagina often caused by forced sex facilitate the entry of the virus.
In its awareness-raising activities, MSF underscores the critical importance of coming to the clinic within 72 hours of the attack. If the victim has been exposed to HIV, a course of treatment with antiretrovirals (ARVs) can prevent infection. But the treatment only works if begun within three days of the rape.
MSF also administers drugs to prevent or treat hepatitis B and other sexually transmitted diseases, such as gonorrhea, syphilis, chlamydia, trichomoniasis, and urinary tract infections. Unwanted pregnancies, another potential result of rape, can be dangerous in areas where women have no access to safe abortion and may expose herself to the risks of an unsafe procedure. Pregnancy can be prevented if the victim comes in within 120 hours of the attacks by administering the morning after pill.
And, depending on the level of violence, the victim may have sustained serious injuries, in which case MSF will treat and if required, perform surgery.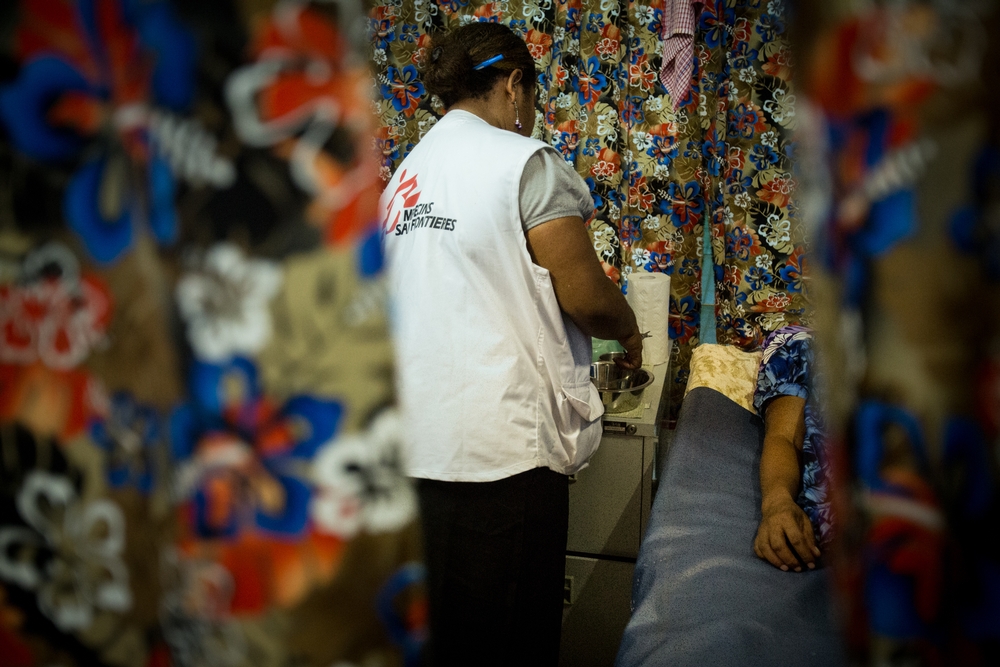 Mental Effects and Psychological Support
Immediately after sexual attacks, victims are often in a state of shock. It is also common to feel guilty and believe that they could have avoided the rape. They may feel that they have lost control of their lives and become unable to perform everyday tasks, or have nightmares and disturbing flashbacks. Rape victims also fear for their safety. Where impunity is rife, victims may still come across their perpetrators and fear further attacks. Rape survivors can also develop depression and post-traumatic stress disorder (PtSD), especially when there is a physical injury during the assault. Women and men who have been raped may also attempt suicide.
The first objective of psychosocial care for victims of sexual violence is to help them restore their ability to carry on with their lives. In some cases, when patients arrive in a state of shock, initial counseling helps stabilize their symptoms and prepare them for medical consultation. Timely counseling can also prevent the development of PtSD at a later stage.
"We have to find a balance between treating and preventing symptoms and at the same time helping the patient deal with some very practical problems that arise from being raped," says Joel Montanez, MSF psychologist in Burundi. "For example, 'The nurse told me that my husband has to wear a condom for six months, but I don't want to tell him that I was raped, so what can I do?'"
As a medical organization, MSF issues medical-legal certificates to victims of sexual violence. When a patient wishes to press charges against a perpetrator, the medical-legal certificate can constitute important evidence in court—sometimes the only evidence beyond the victim's own words.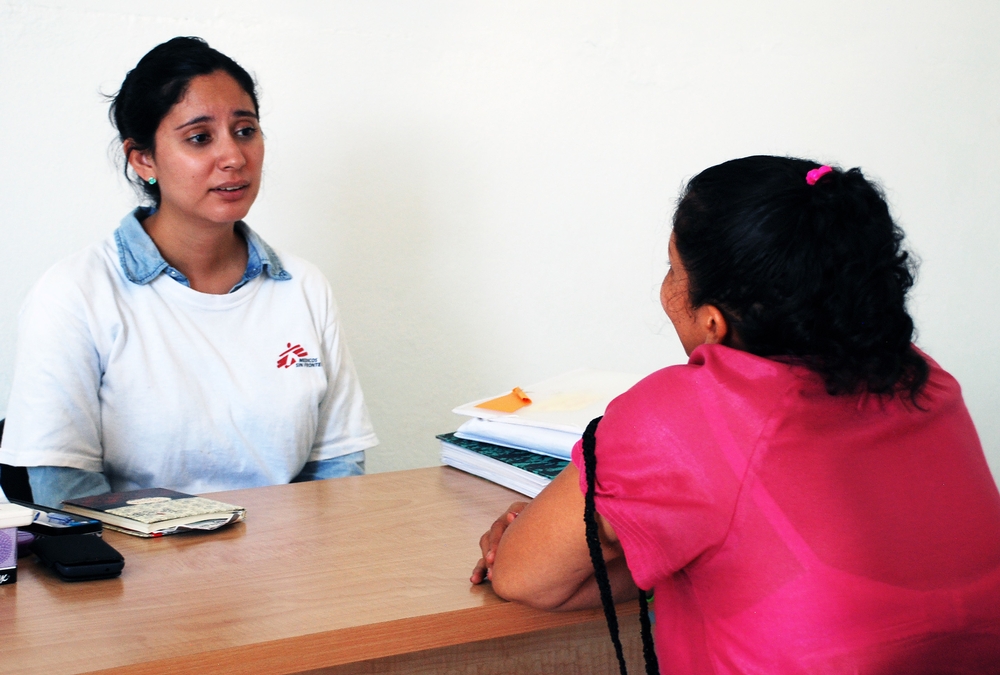 MSF's Awareness-Raising Activities
A crucial element of any project providing health care to victims of sexual violence is ensuring that they know about the services available, and about the importance of seeking care and of doing so as quickly as possible. Talking to people door-to-door, theatre, radio announcements, and billboard advertisements are among the tools that MSF uses to communicate about sexual violence and encourage victims to seek help.
MSF medically treated 11,200 patients for sexual violence-related injuries in 2014.
This page was updated on October 1, 2015. 
Related News & Publications