"What I see today is what I saw in 1991: desperate people who fled their war-torn country only to end up in a camp where living conditions are below what is humanly dignified."
ABUBAKAR MOHAMED MAHAMUD
MSF DEPUTY FIELD COORDINATOR, DADAAB, KENYA
Refugees and IDPs: Latest MSF Updates
Nearly 60 million people are currently fleeing conflict or persecution around the world. Due to their race, religion, or nationality, these people's homes are no longer safe places to live and their governments no longer provide them with protection.
Doctors Without Borders/Médecins Sans Frontières (MSF) works around the world to provide refugees and internally displaced people (IDPs) with everything they need from psychological care to lifesaving nutrition. MSF sets up hospitals in refugee camps, helps women give birth safely, vaccinates children to prevent epidemics, and provides access to safe drinking water.
Video
Lives continue to be lost at sea, in the back of trucks, and in make shift camps where people live in unacceptable conditions in the heart of the European Union. No matter the obstacles, people will continue to come as they have no other choice... Read More
Migration Projects
Tunisia
MSF has been working with fishermen in Zarzis, Tunisia, to offer training in search and rescue. Because fishermen are often the first line of response when boats encounter trouble near their fishing grounds, they have been given material as well as training to assist in their efforts. MSF has also provided training to the Tunisian and Libyan Red Crescents in dead body management.
Italy
MSF is working in the first reception center in Pozzallo (Ragusa Province, Sicily) in collaboration with the Local Ministry of Health to provide medical services to migrants, asylum seekers, and refugees upon arrival and during their stay in the center. MSF has also started to provide psychological first aid to survivors of traumatic events during the sea journey, for example, those who have experienced shipwrecks. A team composed of cultural mediators and a psychologist is ready to be deployed to different landing ports in Italy within 72 hours after receiving alerts. So far, the team has intervened at twelve different landings, in the Italian ports of Palermo, Augusta, Pozzallo, Catania, and Lampedusa, with the aim of providing practical and material assistance, to alleviate concerns, and to help the survivors face the first moments immediately after landing.
MSF also provides mental health care support to people living in reception centers in Ragusa Province, Sicily. During the first nine months of 2015, the team met more than 467 people in group sessions, visited 300 people, and provided psychological care to 126 asylum seekers. Nearly half of the people who have benefited from psychological support have been through traumatic experiences related to their journey, including imprisonment and physical and psychological violence. Most are male, between 19 and 30 years old, coming from Nigeria, Mali, Gambia, or Senegal.
From January to September 2015, the MSF team in Pozzallo provided medical screenings to 12,269 people on arrival, before they entered the primary reception center. Within the primary reception center, MSF has provided consultations to 4,755 people.
Since mid-July MSF has been providing psychological first aid to people in transit in Rome. As of October 30, the team had provided psychological and emotional support to 903 people, and referred 435 people for medical support.  MSF teams are working mainly in the Baobab Center (run by volunteers) and in the Tiburtina area, behind one of the Rome train stations where, lately, the Italian Red Cross set up a temporary tent camp. Most of the people that are staying in Baobab and Tiburtina's centers leave for northern Europe soon after their arrival. The majority of people in the two areas are Eritrean, but there are also many from Sudan and Ethiopia (both Amhara and Oromo).
Greece
MSF is providing medical care, shelter, water and sanitation services, and distributing relief items to refugees and migrants arriving in the Dodecanese Islands, as well as on Lesbos and Samos, in Athens, and at the Idomeni border crossing to Macedonia.
Since the beginning of this year, MSF teams in Greece have witnessed a marked increase of arrivals in the Greek islands. By November 4, there had already been 619,101 people who had arrived in the Greek islands this year, compared to just 43,500 in 2014. In October alone, more than 230,000 people arrived. The vast majority have come from Syria, Afghanistan, or Iraq. In September and October, 300 people lost their lives in the Aegean Sea, many of them children.
The Greek central authorities have yet to organize adequate reception in accordance with EU standards. MSF calls for the Greek authorities to meet their obligations and commit to reception by providing and managing spaces in all Greek islands where people can be welcomed with shelter, food, hygiene facilities, and medical screening. This is all the more urgent as the flow of people arriving will not stop in the winter but living conditions for them will become even harsher.
Fact:
There are currently more than 15 million refugees around the world.
IDPs are not defined as refugees because they have not fled their home country.
There are currently around 26 million IDPs in 52 countries around the world.
Almost half of the world's IDPs are fleeing conflicts in just three countries.
Kos/Leros
There is no reception system at all in any of the Dodecanese islands. The lack of shelter, hygiene facilities, food, and medical screening has become even more apparent in Kos since the local authorities pushed in September for the closure of the Captain Elias camp, an abandoned hotel that MSF had rehabilitated to house people waiting for their registration papers. As a consequence, people are now forced to sleep outside in Kos town with no roof over their heads. With night temperatures dropping and winter approaching, there is still no solution in sight: the authorities in Kos have so far categorically refused to have any type of reception on the island that would go beyond the sole registration of people. MSF was searching for alternatives with other stakeholders but the opposition of the authorities is particularly strong.
In Leros, MSF is scaling up its activities, creating shelter and hygiene facilities to host the people brought to the island for registration from the neighboring military island of Farmakonissi.
The MSF team has been conducting vulnerability screenings to identify the most vulnerable groups like pregnant women, minors, and others to provide access to the basic needs, medical consultations, and mental health support in Kos town since March. From mid-March to October 31, 2015, MSF carried out 7,113 consultations and distributed more than 12,210 relief items such as soap, combs, toothbrushes, sleeping bags, towels, and survival blankets. As of June 15, MSF is also running mobile clinics for primary health care and mental health in the neighboring Dodecanese islands, primarily Leros. With the increase of arrivals in the last weeks, MSF decided to scale up activities in Leros with a permanent presence, providing medical care, shelters, and water and sanitation. In Kalimnos, MSF organized a psychological support for the victims for shipwrecks. Up to October 31, this team had carried out a total of 2,720 medical consultations.
Video
Lesbos
Lesbos receives half of the total number of arrivals in the Greek islands. Although Lesbos is one of two islands where there are reception facilities, the system has failed to respond to the needs of newly arrived people ever since April 2015. An MSF emergency response team was sent to the island in June. MSF is providing medical consultations and mental health support; providing relief items and WiFi; and organizing the transportation of new arrivals between the north and camps where there is registration. In total, MSF provided 7,595 medical consultations, 3,432 of them in the month of October alone.
MSF teams providing medical care to refugees and migrants in Kara Tepe and Moria camps, and at the port of Mytilini, observed several pathologies related to the upcoming winter conditions, such as respiratory tract infections and the first worrying cases of hypothermia. These were the results of three days of rain and the inadequacy of the registration point, where people wait for many hours—or even days—without shelter. MSF is also working to improve water and sanitation in the camps, and ensures cleaning services. MSF is also offering transportation for new arrivals via 14 buses, transporting an average of 1,000 to 2,000 people every day so they do not have to walk the 70 kilometers from their arrival point to the registration center in Mitylini. MSF also organized a transit center in the town of Mantamados to provide first assistance to new arrivals.
The Greek authorities have yet to identify an additional suitable space to the existing reception center in Moria and Kara Tepe camps where people can receive shelter, food, hygiene facilities, and medical screening. Without this space, in the face of chronic mismanagement by the authorities, it is likely that the island will go from crisis situation to crisis situation. For months MSF has negotiated with authorities in order to establish heated tents near the harbor where people—at least children and the most vulnerable—can wait for their ferry.
MSF is assessing the needs at the points of arrival in the north of the island and is planning to launch emergency medical care activities in support of the hundreds of volunteers providing first assistance.
Idomeni
In Idomeni, close to the border with FYROM (Former Yugoslav Republic of Macedonia), MSF is running a clinic and distributing relief items for those who first arrive in Greece and choose to continue onward through the Balkans to Western Europe. From April 3 until October 31, MSF provided primary health care to 8,456 people, and 7,221 participated in individual and group mental health consultations. With winter approaching—and taking into account the high possibility of FYROM closing the border at any moment, effectively leaving people stranded in a no-man's-land—MSF installed structures, each with a capacity to offer shelter to 160 people; two tents for medical activities; 40 latrines; 30 showers; and 10 water taps. MSF is negotiating with authorities to establish additional space to offer more capacity in case of the border's closure.
Samos
After Lesbos, Samos is the second most important island where refugees land when they cross the Mediterranean from Turkey. An MSF team has been on Samos since October 5 to provide medical assistance to refugees, as volunteers in the area are becoming exhausted. The team performs first assessments and screenings when boats arrive, and continue to provide medical care once migrants are transferred to the port of Karlovathi and Vathy where the team has set up medical consultations. As people stay at least two or three days before leaving to Piraeus, the team will explore how to respond to shelter, non-food item, and water and sanitation needs. 
Athens
In Athens, MSF launched a project in October 2014 offering medical rehabilitation to asylum seekers and migrants who have been victims of torture, in collaboration with two Greek organizations (the Greek Council for Refugees and Syneirmos/Babel). 
Serbia
MSF teams have been providing medical and mental health care and distributing relief items such as hygiene kits, food, survival items, tents, blankets, and raincoats to people crossing through Serbia since late 2014.
The team has a mobile strategy, moving according to the routes that people are taking to cross the country. MSF's mobile teams, which each include a doctor, nurse, and translators, were working on the Subotica crossing point with the Hungarian border, in the capital Belgrade, in and around the asylum centers, and are still working on the border with the Former Yugoslavian Republic of Macedonia (FYROM) in Presevo, Miratovac, and Bujanovac. After the border with Hungary closed and the migratory route changed, with the majority of people bypassing Belgrade and going straight to the border with Croatia, the teams started to focus on the crossing points with Croatia at Sid. Recently our teams were able to build three tents in Sid, which can shelter up to 150 people each, and will increase their activities in the coming days, while at the same time remaining mobile. The team in Presevo, where people arrive in Serbia, have set up a clinic and organize transport from the border for the most vulnerable people—people otherwise have to walk for several kilometers. MSF has also set up toilets and helps with garbage collection.
The teams report seeing a large number of pregnant women, from very early to very late stages. They see babies who have been born during the journey. In October the numbers of children and women arriving increased significantly. There are also elderly people and a large number of very young children traveling, and each day the teams see at least one person in a wheelchair. Over the past two months the number of consultations has risen sharply, with the teams treating 6,858 people in September and 6,380 in October, compared to 2,903 consultations in August. The total number of consultations since April is 20,163. The main medical needs are treatment for respiratory illnesses, and for injuries sustained on the journey, including blisters and body pains. People are worried that they will not be able to pass the border; we have seen some cases of anxiety requiring medical attention. With winter approaching, bringing rain and lower temperatures, MSF is also treating people for common colds and has treated several cases of hypothermia. As a direct result of the poor living conditions that people face, MSF teams in Presevo have also seen cases of scabies. 
There are major needs for shelter in Serbia: there have been nights in the past months in which up to 3,000 people who were waiting in line to get registered or were stranded at the border with Croatia had to sleep outside, without shelter and assistance. At the registration point of Presevo up to 4,000 people were waiting to be registered with low temperatures and no shelter. MSF is concerned about the arrival of the winter, when temperature in Serbia drop well below freezing.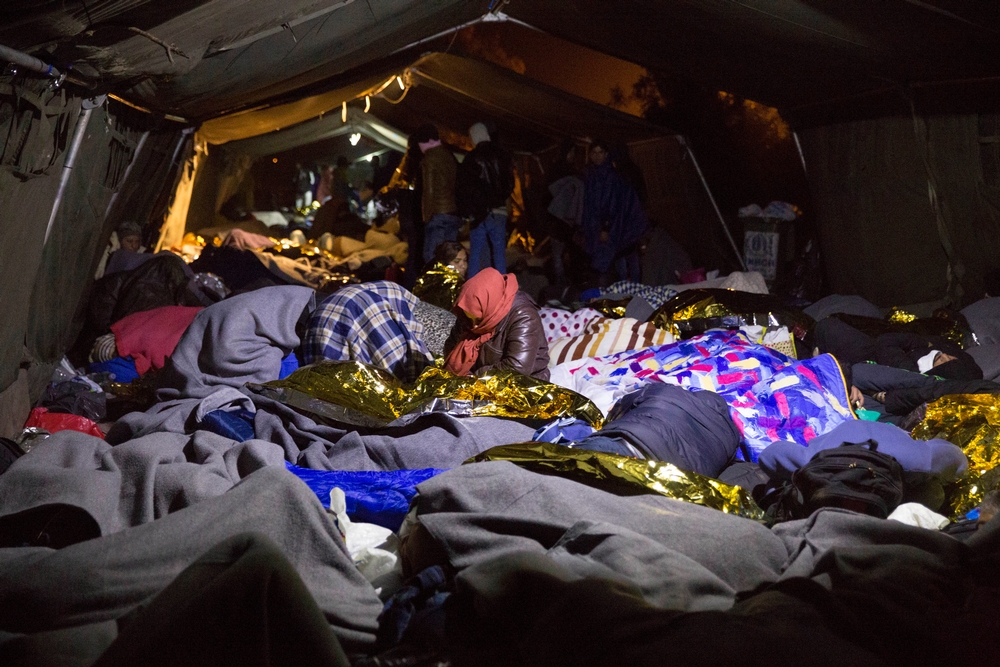 Croatia
MSF is working in Croatia, in a transit camp near the border with Serbia (about 15 kilometers from Tovarnik) where refugees spend about a day before being transferred to Hungary. In the camp, which hosts around 5,000 people daily, MSF has opened up a clinic. Given the unpredictability of the opening and closing of borders between Serbia and Croatia, MSF has had to deploy mobile clinics to be able to rapidly assist refugees at the different crossing points.
Slovenia
From October 20 to early November, MSF has been supporting the Ministry of Health at Brezice Transit Center (at the Croatian/Slovenian border) with medical teams.  MSF doctors and nurses have been providing 24/7 medical consultations to people entering the Slovenian territory. The teams are mainly treating exhaustion, hypothermia, respiratory infections, and flu symptoms.
At the end of October, trains were organized from Croatia to bring people directly to the Austrian/Slovenian border. The Brezice area was closed. The medical needs are now managed by the authorities. MSF continues to monitor the situation, with one doctor in Slovenia.
France
Around 6,000 refugees and migrants are living in Calais at the so-called Jungle site in dire conditions, despite the efforts of nonprofit organizations and local charitable initiatives. Calais is located near the Channel Tunnel linking France and the United Kingdom, and for several years migrants have been trying to reach the UK on trucks via the tunnel. An MSF medical team is providing medical consultations and physiotherapy in the clinic run by Médecins du Monde on the site. An average of 80 consultations is given every day. MSF has started the construction of a proper outpatient department in order to increase the medical capacity on site and improve working conditions.
MSF did water and sanitation repair work and built 66 chemical toilets in an effort to fill the gap of showers and toilets. MSF also set up a system for collecting and managing garbage. An MSF van gathers 20 tons of trash daily.
To respond to the need for shelter, MSF is supplying building materials and providing technical support to volunteers building wooden shelters for migrants.
Refugees and migrants are also living on different sites around Dunkerque, further north of Calais. On November 9 an MSF team started running a mobile clinic at six different sites to provide medical care. The team is also exploring how to respond to non-medical needs, such as water and sanitation and shelter. 
Video
International Law
Refugees are protected under international law.
The United Nations refugee agency (UNHCR) is responsible for ensuring that refugees have the right to seek asylum, to receive assistance—food, shelter, medical care—to protection from violence, and to bringing about a lasting solution to their situation.
However, some policies are designed to deter refugees from seeking asylum: policies that condone inadequate processing or simply turn refugees away.
As well as providing health care and sanitation for refugees, we believe it is equally important to speak out about these policies.
The Largest Camp in the World
When countries do provide shelter, refugees are often forced to face the health impacts of living in unsanitary camps. With a population of 460,000, Dadaab refugee camp in Kenya is recognized as the largest in the world, and one of the most dangerous.
Today, Dadaab is no longer a refuge. As more people arrive from war-torn Somalia, the overcrowded camps are becoming permanent homes where people face rolling nutritional crises and outbreaks of diseases such as measles and cholera. 
Abubakar Mohamed Mahamud, MSF's deputy field coordinator, has worked in Dadaab for more than 20 years. "The crisis in Somalia is not going to end soon," he says. "History is repeating itself and this is a never-ending problem."
"What I see today is what I saw in 1991: desperate people who fled their war-torn country, leaving everything behind, only to end up in a camp where living conditions are below what is humanly dignified."
Following the drought in the Horn of Africa in 2011, a surge of people fled Somalia in search of safety, food, and medical care, aggravating the already dire situation for refugees in Dadaab.
Inside Dagahaley, one of Dadaab's five camps, MSF teams tripled capacity by setting up an emergency nutrition center with more than 200 beds while maintaining a 100-bed hospital for maternal care, pediatrics, emergencies, and general medical assistance.
Video
Internally Displaced People
While IDPs often flee their homes for similar reasons to refugees (armed conflict, human rights violations, natural disasters) technically, they are not refugees. IDPs have not crossed an international border to find refuge and therefore remain legally under the protection of their own government, even though that government is often the cause of their flight.
Today, there are 26 million IDPs in 52 countries around the world. Almost half are fleeing conflicts in just three countries: Sudan, Colombia, and Iraq; and around three quarters of all IDPs are women and children.
Despite international law calling for the protection of civilians in conflict, women and children are often deliberately targeted by belligerents as part of their strategy.
And, while programs exist to provide surgical and other care to these victims, the vast majority will not receive the care they need because they live in regions where the healthcare system has collapsed and where it is too dangerous for independent aid agencies to operate.