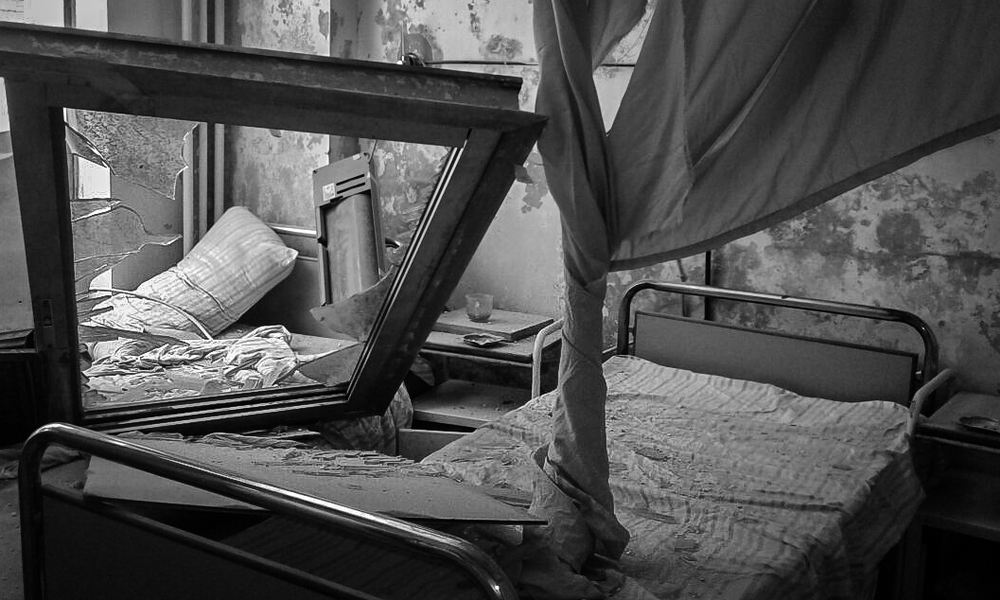 Damage inside and outside the MSF-supported Al Daqaq hospital after two bombings occured nearby on July 23. ©MSF
Amman/New York, September 30, 2016—The international medical humanitarian organization Doctors Without Borders/Médecins Sans Frontières (MSF) demands that the Syrian government and its allies halt the indiscriminate bombing that has killed and wounded hundreds of civilians—many of them children—over the past week in Aleppo.
"Bombs are raining from Syria-led coalition planes and the whole of east Aleppo has become a giant kill box," said Xisco Villalonga, director of operations at MSF. "The Syrian government must stop the indiscriminate bombing, and Russia as an indispensable political and military ally of Syria has the responsibility to exert the pressure to stop this."
From September 21 to September 26, hospitals still functioning in Aleppo reported receiving more than 822 wounded, including at least 221 children, and more than 278 dead bodies—including 96 children—according to the Directorate of Health in east Aleppo.
"All intensive care units are full. Patients have to wait for others to die so they can be moved to an available bed in intensive care," said Dr. Abu Waseem, manager of an MSF-supported trauma hospital in east Aleppo. "We only have three operating theaters, and yesterday alone we had to do more than 20 major abdominal surgeries. The hospital staff is working up to 20 hours a day. They cannot just go home and let people die."
Amid the onslaught, hospitals are running out of supplies. MSF succeeded in delivering a cargo of medical supplies into Aleppo during a brief break in the siege back in August but has not been able to do so again.
"Over the last months, we have done everything we can to keep supporting the hospitals in Aleppo," said Villalonga. "Now, with a complete siege on the city, attacks on humanitarian convoys, and intensive bombing, we are powerless."
The situation was already critical in east Aleppo before this renewed offensive. Also on Friday, MSF released a report about the April 2016 attack on the MSF-supported Al Quds hospital, in which 55 people were killed. The report details the daunting conditions in hospitals throughout the city and the brutal effects of attacks on both hospital staff and the population's ability to access health care.
"In April, when Al Quds was bombed, it was the worst offensive to date; yet [previously] unimaginable limits have been crossed since then, and if this intensity of bombing continues, there may not be a single hospital standing in a few days," said Villalonga. "All hospitals in east Aleppo have been affected by the bombing since April. Al Quds hospital itself was hit and damaged again in August after intense efforts to rehabilitate the facility and resume activities."
Medical facilities have also been damaged in west Aleppo over the past few months.
On September 28, just hours before the United Nations Security Council met to discuss the implementation of UN Resolution 2286, which was passed unanimously in May, reasserting the protected status of hospitals in conflict zones, two more MSF-supported hospitals were seriously damaged by bombing and forced to suspend activities.
"Russia and the other members of the UNSC must respect the resolution on the protection of medical facilities and put an end to the total disregard for humanity that is on display in Aleppo today," said Villalonga. "The ruthless, brutal bombing must stop and urgent measures need to be put in place to allow the evacuation of the severely sick and wounded to areas where they can access adequate medical care. Anything short of this is confirmation of what many fear—that the world has abandoned the people of Aleppo."
MSF supports eight hospitals in Aleppo city. It runs six medical facilities across northern Syria and supports more than 150 health centers and hospitals across the country, many of them in besieged areas.